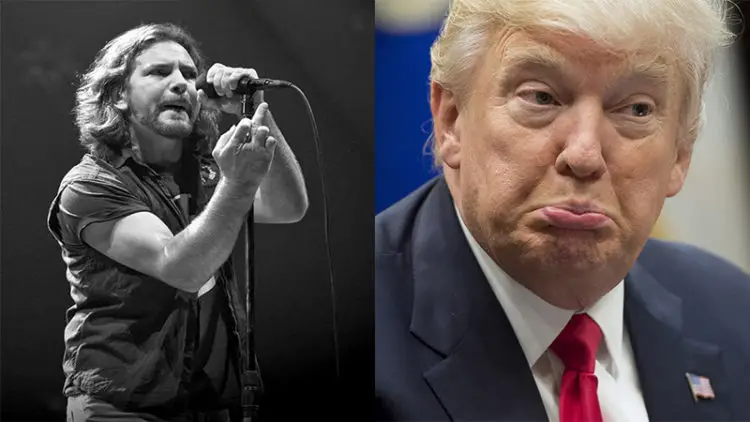 Donald Trump Jr. has commented on the controversial PEARL JAM concert poster depicting a rotting corpse of his father, telling Newstalk KGVO:
"I think it is disgusting. I think if the reasonable people of the state of Montana saw that happen during the Obama administration and someone of that sort of notoriety…

"I am not talking about some crazy person that does something negative because you are going to see that on both sides no matter what, but if someone of that notoriety did that about Obama, there would be outrage everywhere.

"The media would cover it this way and the liberal elite would go crazy. You do it about Donald Trump and it is crickets."
He added:
"We are doing a great job. My father is crushing it when it comes to these things [the economy] and all these guys want to do is block all of that.

"The big thing right now obviously is the Supreme Court, [Montana Democratic Senator] Jon Tester said that he was having a meeting scheduled with the White House regarding the nominee and then he canceled the meeting saying he had other stuff and there was no other meeting scheduled.

"It is just a lie, it is all games and it is all politics. I think the people of this country are sick of it and I think especially the people of Montana.

"Jon Tester pretends he is this homebody. He is the number one recipient of lobbyist campaign contributions in the Senate. He plays the act very well, but that is what they do: they play the act at home and then they go to DC and act like Chuck Schumer and Nancy Pelosi's lap dog."
As reported, the poster promoted PJ's August 13 Rock to Vote show in Missoula, MT. It depicts the White House on fire, skeletal remains of US President Donald Trump in front of it, as well as Montana congressional candidate Senator Jon Tester and his Republican opponent Matt Rosendale.