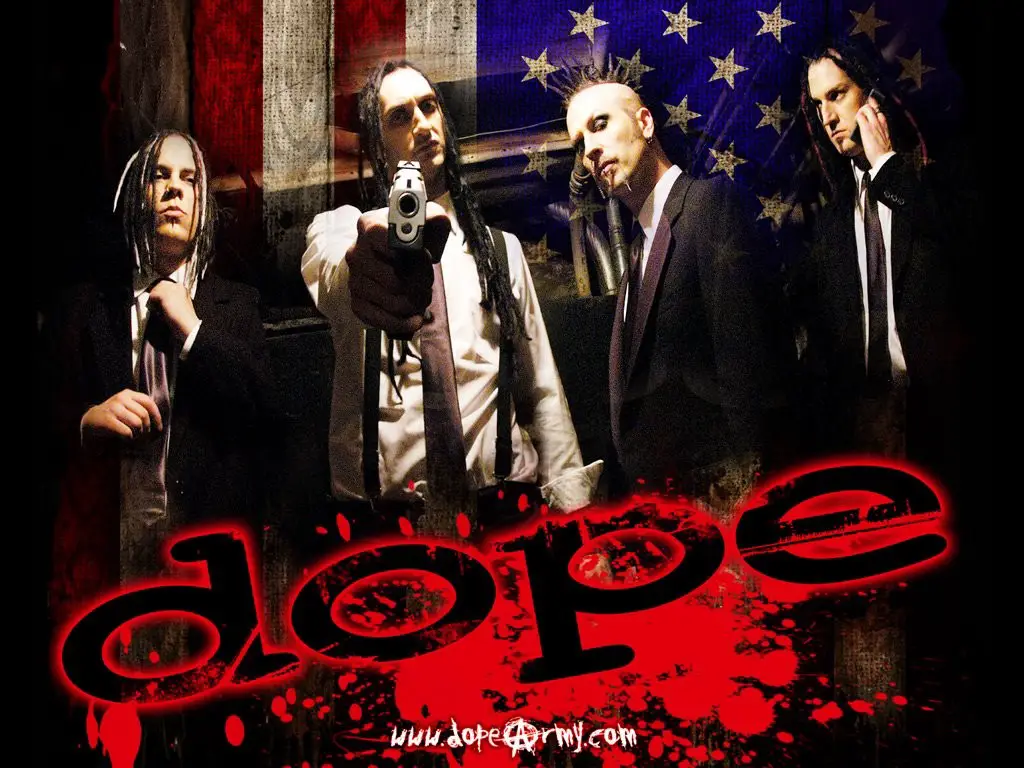 DOPE has released the lyric video for "1999" off of their hotly anticipated "Blood Money Part 1" LP. The final single anticipates the release of "Blood Money Part 1"  this Friday, October 28.
"After much anticipation, the release date for Blood Money is finely upon us..  We've already dropped 3 full length music videos and today we are dropping a lyric video for the song 1999.
I anticipate that this song will be one of the fan favorites off the new record..  Looking forward to Friday!"
– Edsel Dope
"Blood Money Part 1" Track List:
1. Intro: Confessions of a Felon
2. Blood Money
3. Shoulda Known Better
4. Lexipro
5. Hold On
6. 1999
7. Razorblade Butterfly
8. Drug Music
9. A New Low
10. Hypocrite
11. X-Hale
12. End of the World
13. Selfish
14. Numb
15. Violet
DOPE is concluding its first full USA tour in 6 years which featured a number of sold out performances. The tour will conclude at the whisky on October 30th before the band heads to Russia, the Ukraine and the U.K. For select shows in November.
TOUR DATES:
10/24 – Lubbock, TX @ Backstage
10/25 – Gallup, NM @ The Juggernaut
10/26 – Phoenix, AZ @ Joe's Grotto
10/27 – San Diego, CA @ Brick By Brick
10/28 – Las Vegas, NV @ Counts Vamp'd
10/29 – Anaheim, CA @ City National Grove of Anaheim
10/30 – W. Hollywood, CA @ The Whisky
11/02 – St. Petersburg, Russia @ Zal Ozhidaniya
11/03 – Krasnodar, Russia @ Arena Hall
11/04 – Mosco, Russa @ Volta
11/05 – Ufa, Russia @ RK Ogni Ufy
11/06 – Kiev, Ukraine @ MonteRay Club
11/07 – London, England @ 02 Academy