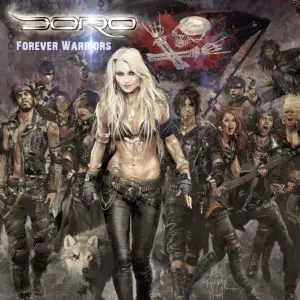 Yeah, my child of the night. I'm perfectly aware that Doro's new release is no news at all. But the news are we have firmed a partnership with the biggest Metal label: Nuclear Blast. No one is best than my Metal muse to begin with, don't you agree? I know you do. "Forever Warriors, Forever United" is here with all his power and glory with that unique tone of warm voice that our muse, Doro Pesch, can provide us. As many veteran's releases – no, no, not the muse, the band, please forgive me – "Forever Warriors, Forever United" features a team of Metal guests: Amon Amarth's Johan Hegg, Sabaton's Chuck Billy, Kreator's Mille, guitarists Doug Aldrich and Tommy Bolan. And the partnership of the highest star of Metal sky: Lemmy Kilmister. Anybody else? She's the muse, isn't she? She can have whoever she wants.
"Forever Warriors, Forever United" kicks off with "All For Metal," a song with a choruses that could be part of a movietrack. Well, at least is the first thing that comes to my mind listening to it. I don't have a better explanation to it. The oh-oh-oho-oh – or whatever – glues to one's mind. Following track, "Bastardos" is a very doroish one. Speed drumming, anthemic guitar riffs and her warm and powerful voice. Everything she has ever learned from her years in Metal were put together in "Bastardos." But the cherry of the cake is "If I Can't Have You – No One Will" with special guest Amon Amarth's Johan Heeg and his somber and low-tuned voice contrasting with Doro's warmth. Musicwise is a traditional Heavy Metal tune, but Hegg's voice gives it the insane grip it needs to get even crazier. His voice sounds even more grittier because of the slow pace instrumentals. The effect is very interesting.
Doro knows what she does. She won't risk a very well-succeeded career for nothing. So, she does what fans expect from her. Is that enough? To me yes, no doubt about it. "Forever Warriors, Forever United" sounds cool, even though. As I told more than once, I don't care about artists trying news things each album. Things have to come naturally, so do change. It comes natural. No need to force. The price you pay is very high if you risk for nothing. All ten tracks work fine, there is no one out of the box. Is "Forever Warriors, Forever United" memorable? Ah, it depends. If it is our first, it sure is. If you are a hardcore fan, it is good. It isn't disappointing in any way.
Doro "Forever Warriors, Forever United" was released on August 17th via Nuclear Blast Records.
Track Listing:
All For Metal
Bastardos
If I Can't Have You – No One Will
Soldier of Metal
Turn It Up
Blood Sweat And Rock 'n' Roll
Don't Break My Heart Again
Love's Gone To Hell
Freunde Fürs Leben
Backstage to Heaven
Watch "All for Metal" official video here: