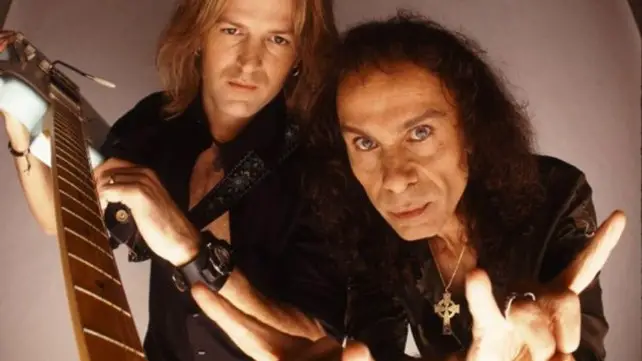 Guitarist Doug Aldrich, who was a member of DIO between 2002 and 2006, spoke what it was like to work with Ronnie James Dio.
"For me, [he was] the best heavy metal singer ever, Ronnie," Doug said in an interview with Danny Stoakes (hear audio below). "There's a lot of great ones — Rob Halford and Bruce Dickinson. All these guys — Biff Byford [SAXON] — they're all killer, but Ronnie, for me, that's the guy that… That [BLACK] SABBATH album was so incredible, the Heaven And Hell album."
When asked what it was like to play classic songs from RAINBOW, BLACK SABBATH and DIO with Ronnie, Doug responded: "It was great. I actually could find really comfort in playing both Vivian's [Campbell] stuff and Tony Iommi's. My style is based a little bit on guys like Tony Iommi and also another guy called Gary Moore, who you know. Viv was influenced by Gary, so some of his stuff came a little more natural for me. And Tony was a heavy pentatonic player, and I love the pentatonic scale. So that was always fun.
"But playing those riffs, like 'Children Of The Sea' — oh, man. And then the [Ritchie] Blackmore stuff, I would do my best to not… I'm a completely different player than Ritchie Blackmore. I guess everyone does their own thing. I love Ritchie — I love how he approached the guitar. He reminded me of all the good things from [Jimi] Hendrix and Jeff Beck combined, and he was putting his original [spin on it]. So, playing his stuff, I would use a Strat.'
"One of the scariest parts of that [2005 tour where we recorded the] 'Holy Diver – Live' [album] is that we were doing 'Gates Of Babylon' — it's off the 'Long Live Rock 'N' Roll' album — and, man, that solo scared the sh*t out of me," Doug added. "I did a pretty good version on that night — it was pretty good; it wasn't perfect. I was just, like, 'I've just gotta get through… Once I get through that solo, if I do it halfway decent, I'm gonna be totally confident.' And then I got through that solo, and it was a great show."
Ronnie James Dio died of stomach cancer in May 2010 at the age of 67.