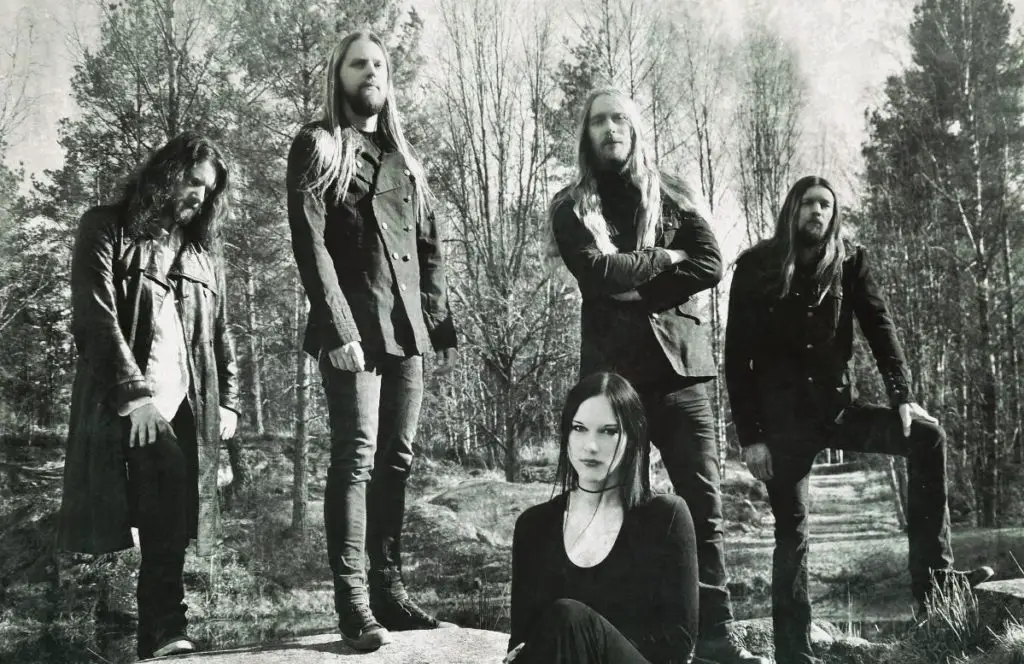 DRACONIAN, the sovereigns of melancholic Gothic Doom Metal and far-reaching lyrics, have just released their fourth single, "Moon Over Sabaoth," cut from their upcoming studio album, Under A Godless Veil, out October 30, 2020 via Napalm Records.
The seventh full-length of the Swedish five-piece and second one with talented Heike Langhans on vocal duties, appears exactly five years after DRACONIAN's latest album, Sovran, and guarantees a complete immersion into the band's essence. Starting off with a soft guitar intro, DRACONIAN's new single "Moon Over Sabaoth" soon breaks off into Anders Jacobsson's ghastly growls paired with a stomping doomy rhythm. Complemented by Heike's angelic voice, the vocals will touch deep inside your soul and interweave with stunning melodies and bone-crushing riffs. An artful conceptualized lyric video underlines these atmospheric tunes of melancholic beauty.
Lead guitarist and main composer Johan Ericson comments:
"'Moon Over Sabaoth' is a perspective song that crawls in towards its end destination.  Monotone doom riffing accompanied by some heavy drums. Together with Anders harsh, desperate vocals leading up to an almost anthemic chorus. We stand tall…"
Under a Godless Veil delivers a captivating mélange of dreary doom and contrasting vocals and is the second offering featuring stunning singer Heike Langhans. The first notes of the opener will immediately draw the listener into a void of interweaving beauty, coalescing with paralyzing depression that leaves nothing but the desire of total immersion in the whole record. Under a Godless Veil carries the legacy of gothic doom metal à la My Dying Bride into a new decade of the genre.
Resonating with the compositions, Anders's lyrical direction is ambiguous and a progression of the first two-three albums, yet more subtle while embracing the Gnostic philosophy more directly. One could say Under A Godless Veil is an act of contemplation; About living and dying and remembering who we are in a strange, abrasive world far from home."
Under A Godless Veil tracklist:
1. Sorrow of Sophia 
2. The Sacrificial Flame 
3. Lustrous Heart
4. Sleepwalkers
5. Moon Over Sabaoth
6. Burial Fields
7. The Sethian
8. Claw Marks On The Throne 
9. Night Visitor 
10. Ascend Into Darkness