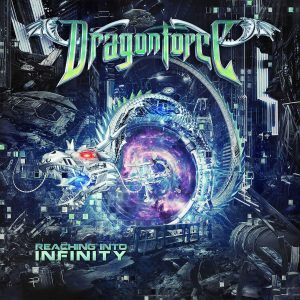 DragonForce has always been one of the flag ship bands for all of power metal, and I know many others feel the exact same. Being a defining band ever since their legendary "Through the Fire and Flames", this group has always churned out exceptional albums of all kinds even after transitioning vocalists, and more recently a drummer. That's the sort of thing that can bring up the downfall of a band when they bring in someone new and that someone fucks up the momentum. It's a slim chance but it's still there, and luckily, DragonForce's upcoming piece of "Reaching into Infinity" is far from a disappointment.
First off, let's just get one thing out of the way: practically nothing new is brought to the table with "Reaching into Infinity" in terms of style or sound when compared to previous efforts. And there's a simple reason to that and it's because DragonForce has found a formula that they make work time and again with little – if any – amount of failure to be had in the final product, and there's not much about "Reaching into Infinity" that I have to complain about. Other than the desire to hear maybe a little bit more diversity in the vocals department for the sake of variety, this record practically hits the nail squarely on the head. "Reaching into Infinity" has got enchanting vocals, stunning guitar work, astonishing rhythms brought by the bass, impeccable beats from the drums, and an overall sense of musicianship the likes of which only DragonForce can deliver. The entirety of this album is a magnificent display of what it means to be a veteran power metal band, and be one of the most badass bands of its kind in the entire world. The legend has yet to fade, and "Reaching into Infinity" only further cements the awesome force behind DragonForce (pun not intended).
Bands can only ever dream to be on the same level as DragonForce, but it takes a lot of components to get to where these guys are at. They're bigger than ever, and it's settling to know that they aren't going to start waning in quality anytime soon, and "Reaching into Infinity" is a glorious opus that is another stupendous addition to an already impeccable discography.
"Reaching into Infinity" releases on May 19th via Metal Blade Records! You can pre-order the album via iTunes here.
Track Listing:
Reaching into Infinity
Ashes of the Dawn
Judgement Day
Astral Empire
Curse of the Darkness
Silence
Midnight Madness
War!
Land of Shattered Dreams
The Edge of the World
Our Final Stand
Hatred and Revenge (Bonus Track)
Evil Dead (Bonus Track)