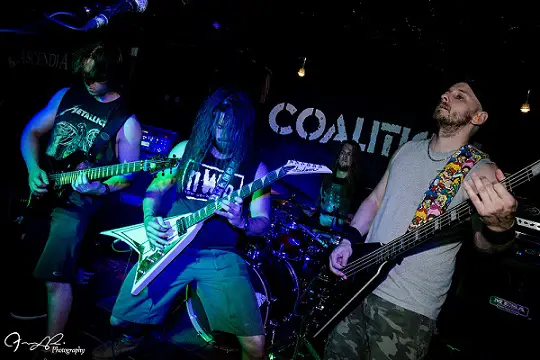 Hailing from Saguenay, Quebec, Drakarium have been perpetuating the spirit and legacy of early 2000s European metal since 2006. The French Canadian quintet takes its roots from power metal pioneer such as Stratovarius, X-Japan and Warmen, just to name a few. Drakarium have a knack for fast-paced songs and catchy melodies which make its music accessible to a wide audience. The catchy and melodic French vocals are what distinguish Drakarium from similar acts. The latter, added to the already energetic mixture of neoclassical and progressive drum style, contributes to the uniqueness of their sound.
Drakarium released their first eponymous extended play back in 2015, inspired by the Japanese five elements of philosophy (Earth, Water, Fire, Wind, and Void) also known as godai. Each element is embodied in the five main songs that compose the EP and is further underlined by the conceptual French lyrics. 'Drakarium' features omnipresent neoclassical guitar playing and progressive elements as well as fast and dominating keyboard passages reminiscent of power metal's greatest hours of the early 2000s.
While keeping old school power metal the core element of its music, Drakarium's most recent release 'Acte II' expands the band's signature sound by adding even more elements to the table, incorporating notably salsa and folks influences. Lyric-wise, it follows the path of its predecessor, depicting numerous elements from the Norse mythology into a conceptual album revolving around recurring themes such as one-way journey across the northern sea. Drakarium will be playing select dates later this year in support of their latest effort 'Acte II' released on June 24th.
Band Line-Up:
Jean-Philippe Brassard – Guitar / Vocals
Guillaume Duchesne – Guitar
Pierre-Olivier Vigneault – Keyboards
Dale Holmes – Bass
Alexandre Lessard-Martin – Drums
Read our review here.