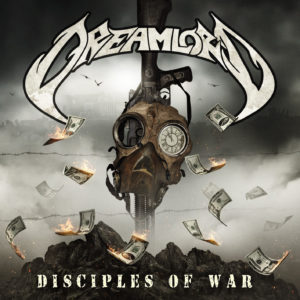 Ah, all the comes and goes of Metal music! The beast that simply refuses to die. It's what they say about our beloved music genre. Prejudice aside, there is a lot of truth in those words. I don't know how many times I've read or heard the "prophetic" words "Heavy Metal is dead." But for the metallers' sake that time never came, and maybe, just maybe, will never come. That's the feeling that grows when I listen to a band like Dreamlord and their "Disciples of War" an album that is a trip to the glorious past, though with a great taste of the future.
Dreamlord remind the best moments of 1980s Metal with all the raw and crude Old School early Thrash Metal with some brilliant melodic instrumentals passages that makes us dream, and remember, a very dear band of all of us which unfortunetely sold their soul to the man. Please, don't ask, don't tell. "Disciples of War" starts with some child talking as of from a B horror movie of the 1980s to commence the carnage with "Out for Blood" with a volent and thrist for blood guitar riff. The grip is still Old School Metal, but slowly things get uglier and faster and heavier with Dreamlord opening fire with everything they got.
"Disciples of War" goes on as a wave reaching its peak of violence by "Blind Eyes" with a thrashy guitar riif that makes no one stay put. The madness slows down in "Act of God," an instrumental tune with touching melodic and mesmerizing guitars with the great taste of the band I was talking about a few line above. The twin guitar phrases are real killers sweating emotion and technique from all pores magically held by the guitar duo Babis Paleogeorgos and Yiannis Glykiotis who are able to achieve unbelievable moments. Remarkable. From now on, "Disciples of War" gets more and more melodic and who wins with this is the fan that begins to know a face of Dreamlord that really does something great for Metal. "Outcast" and "Uncompromised" follow the same grip again with the inspired guitar riffings and interventions. No wonder they are the longest best tracks of "Disciples of War."
"Disciples of War" achieves something very difficult that is to gather rough and violent tracks with a fine and shine melodic passages. An album to remember.
Dreamlord "Disciples of War" was released on December 20th via No Remorse Records.
Track Listing:
Out for Blood
Disciples of War
The 11th Hour
Humanity Enslaved
Aggressive Denial
Infratricide
Blinded Eyes
Act of God
Outcast
Uncompromised
Watch "Blinded Eyes" official music video here: