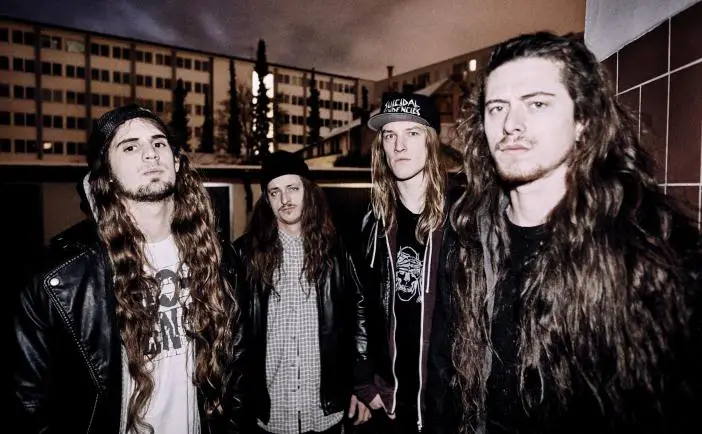 German power four-piece DUST BOLT released their third album "Mass Confusion" in July 2016 via Napalm Records. In support of the album, DUST BOLT will travel to North America for the first time ever. To warm up for the tour, the band has now unleashed a brand new video for the song "Mind The Gap", taken from DUST BOLT's latest release. Check out the music video for "Mind The Gap" below.
The band stated:
"We are stoked to present the new video for the song "Mind The Gap", shot during a live session at the Rain Age rehearsal rooms in Germany. Raw, DIY and old school as f**k – as you know it. A room, 4 people, 3 amplifier and drums – that´s all you need.After a great summer season in Europe we can´t wait to bring the songs from 'Mass Confusion' and the first two albums finally to the United States together with Obituary, Exodus and Power Trip on the Battle Of The Bays Tour 2017. Come out and catch us live! And if anyone tries to tell you what to do, what to dream of or which way you to go, or even not to go to a Dust Bolt show – don´t forget: just Mind The Gap.!
The band will be taking part in the "Battle of the Bays" Tour, featuring Obituary, Exodus and Power Trip. The tour kicks off September 14th in Durham, NC and runs through October 15th in Baton Rouge, LA.  A complete list of all dates including off dates with Obituary can be found below.
It's only been six years since Southern Germans DUST BOLT won the W:O:A Metal Battle 2011 – six years the band has used to transform themselves from hot newcomers into national thrash heroes with their debut Violent Demolition! These Bay Area aficionados dropped their third full length "Mass Confusion" in July 2016. Relentless touring plus constant fine-tuning of the typical DUST BOLT sound have finally paid off: the old school songwriting is focused and free of ballast weight, yet despite all the rage and aggression there is still plenty of breathing space for melodic guitar work, gang shouts and ten ton grooves.
DUST BOLT W/ Obituary, Exodus and Powertrip:
9/14: Durham, NC @ Motorco Music Hall
9/15: Virginia Beach, VA @ Shakas Live
9/16: Baltimore, MD @ Baltimore Soundstage
9/17: Sayreville, NJ @ Starland Ballroom
9/19: Brooklyn, NY @ Music Hall Of Williamsburg
9/20: Worcester, MA @ The Palladium (Downstairs)
9/21: Burlington, VT @ Higher Ground
9/22: Quebec City, QC @ Imperial Ball
9/23: Ottawa, ON @ Bronson Centre
9/24: London, ON @ London Music Hall
9/26: Grand Rapids, MI @ The Intersection
9/27: Columbus, OH @ Park Street Saloon
9/28: Indianapolis, IN @ Deluxe @ Old National Center
9/29: Joliet, IL @ The Forge
9/30: Minneapolis, MN @ Skyway Theatre
10/1: St. Louis, MO @ The Ready Room
10/3: Lawrence, KS @ Granada Theater
10/4: Ft. Collins, CO @ Aggie Theater
10/6: Sacramento, CA @ Ace of Spades*
10/7: Los Angeles, CA @ Teragram Ballroom*
10/8: San Diego, CA @ The Observatory North Park
10/10: Tucson, AZ @ The Rock
10/11: Albuquerque, NM @ Sunshine Theater
10/12: El Paso, TX @ Tricky Falls
10/14: San Antonio, TX @ Paper Tiger*
10/15: Baton Rouge, LA @ The Varsity Theater +
* No Exodus
+ Obituary, DUST BOLT ONLY