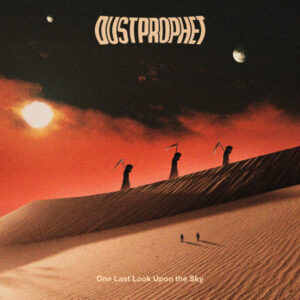 Dust Prophet with "One Last Look upon the Sky" bring a weird combination of Heavy Rock and Doom Metal. To some extent this is no news because Black Sabbath, the forefather of all Doom Metal bands were some kind of Heavy Rock band. Interestingly, the band delivers here and there a sonancy that reminds a band that we don't say the name. The strumming in "A Storm of Time _ Space part 1" is sometimes misleading as it reminds to go to a very well-known tune – say it very quietly "Nothing Else Matters" – from the band we don't say the name. The guitar riffing in "When the Axe Falls" also leads to another very well-known track from the very same band we don't say the name – but now I won't say which one is it. You try to guess my dear child of the night.
"One Last Look upon the Sky" may be divided into two different moods one with a Heavy Rock mood, the other is Doom Metal with all its traits. Dust Prophet's guitars overtones are full of distortion and a bit low-tuned which give the songs a deep meaning. Well, just the overtones Doom Metal bands love. I really liked the well-pronounced bass lines. Sometimes it's hard to follow bass lines in some records. "Put to the Question" drives a little away from the band's formula as it delivers a nice keyboard sound in the background and starts of with some guitar solos. It also delivers some jazzy inspired clean guitar solos in its middle. I guess the 1970s spirit just got the band here. In fact, it's the mix I aforementioned. The same happens with "Song 4" with a heavily distorted guitar solo and an electric piano giving an ethereal sound to the song. The constrats between the guitar overtones and the electric piano work as a blast.
What I liked about "One Last Look upon the Sky" is that the album has some deep variations and different moods. It's not that same cadence and mood some bands delive and which is the thing about Doom Metal that really bothers me. I particularly don't appreciate much low-tuned guitars, but I loved them heavily distorted overtones because even though they are perfectly clear. Most low-tuned guitars are impossible to listen perfectly. Not what happens here though.
Dust Prophet "One Last Look upon the Sky" will be released on January 27th.
Track Listing:
A Storm of Time _ Space part 1
When the Axe Falls
Dear Mr. Budd
Song 4
Put to the Question
The High Capital
A Storm of Time _ Space part 2
Hourglass
Bury me Before Noon
Watch "When the Axe Falls" official lyric video here: