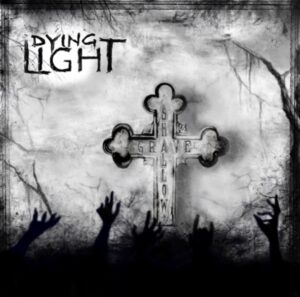 Dang! Almost!
I guess you don't get it… hahahahaha
I'll elaborate. Dying Light, the band, have a song called "Dying Light." It lacks the album called Dying Light as well. That's it. Incredible bands as Black Sabbath, Iron Maiden, Rush, and others follow this. By the way, the most impressive is when this formula is for the debut album. By the way, Dying Light is a great name for a band. So is "Shallow Grave" for an album.
The music in here is a step ahead of Soundgarden, Alice in Chains and Pearl Jam used to do. "Refined Madness," for instance, could have been recorded by any of the enlisted before with the plus of the guitars lines. Jeff Ross's tone of voice reminds a lot those ones as well. The thing is that "Shallow Grave" has the same vibe plus the incredible guitar solos that lacked in the music of those bands. Have I said here that I love guitar solos, and most of all, songs with lots of guitar solos? I guess I haven't enough. Ok, no one here is a virtuoso, but the fact is that no one doesn't have to be. It's only a matter of where and when. Where place the guitar solos an when place them. Better yet, "Just a Little More" delivers an incredible Wah pedal effect. Impossible not to like it.
It's a fact that "Shallow Grave" tries to revive the good old days of the 1990's grunge years. Except that Dying Light, as I said before, goes beyond. That's where the band stands out of the crowd with flying rainbows. Guitar solos are all well-placed with lots of emotion, certainly the most wnated trait. "Wicked Tools" tells this story much better. The plenty of distortion "Won't Be Coming Home" goes a little off the formula the band applies here, but it fits pretty well with the album's intent. The best grand finale for an album like this.
Dying Light "Shallow Grave" was released on January 20th.
Track Listing:
Shallow Grave

Wicked Tools

Refined Madness

Just A Little More

Fall Away

God of War

Dying Light

Won't Be Coming Home
Watch "Shallow Grave" official music video here: