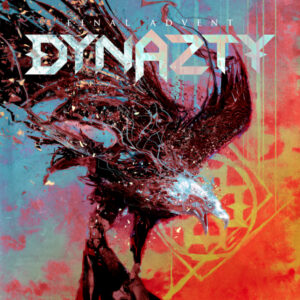 It's really fantastic the wonders a day after a night can do for an album. I heard Dynazty "Final Advent" for the first time yesterday and I thought the album was a little naaahh. You know, just a little blaaah. Too much daah for me. But you know what? Today the album sounds a little more yay. Maybe because it's sunday afternoon and tomorrow is monday. Really don't know. Or maybe my ears are fresh. Really can't tell.
Dynazty are one of the bands that religiously put out an album every two years and it's really a great deal to have the opportunity of reviewing their latest album this "Final Advent" after reviewing their 2018's "Fire Sign" and 2020's "The Dark Delight." Well, there isn't much change from one album to another I have to say. Of course, some details here and there may be noticed as the more constant use of the keyboards with a more symphonic approach as in "All the Devils Are Here." Dynazty are a bit more related to Power Metal here than in the other albums. I mean, "Final Advent" is the balance of the a al Winger approach with some Helloween. Right, I know, a pretty awkard – to say the least – combination, if you know what I'm saying. Interestingly, this combination happens inside tracks as well what is pretty nice. What doesn't change is the band's prone to a British sense of humour, if you get me right. This fine and subtle sense of humour interwines all the album through the track tittles and the lyrics. By the way, the band tries to update their music introducing some low tuned guitars and some electronic effects known to modern Metal bands as in "Instinct" to give it more punch. The outcome is, let's say, interesting. However, instead of updating the music it makes it more Power Metal than anything. Another trait that goes on is the prone to classical guitar solutions. Guitars solos are always classic driven.
"Final Advent" is a great album to singalong though extremely driven to Dynazty fan base which, I have to say, is big – Hum, just a though, does any band write albums to anyone else than their fans? Yeah, some bands write albums to their critics but I don't if they really count. Only to have an idea "Advent" official music video has more 600k views so far. I bet these songs sound wonderful live in a stadium. The catchy choruses and the gluey guitar riffings may work just fine in a stadium anywhere in this sad and lonely and pathetic little world just to make it a little less sad and lonely and pathetic. Who knows.
Dynazty "Final Advent" will be released on August 26th via AFM Records.
Track Listing:
Power of Will
Advent
Natural Born Killer
Yours
All the Devils Are Here
The White
Instinct
Heart of Darkness
Achilles Heel
Power of Now
Watch "Advent" official music video here: