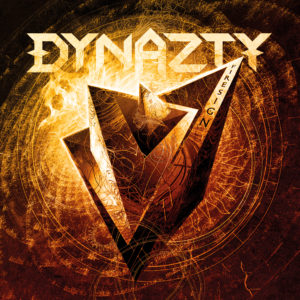 As today is sunday – the international day of pasta. Don't you believe me? Google it. – I was in the mood for something more relaxing. I wanted something to easy on my ears. So I chose Dynazty "Fire Sign" hoping it would go very easy on my ears. Dude, I was flat wrong. Forget that poser – does anyone still use the term poser? – attitude. The band is hard to the bones. Just don't pay attention to the sound effects. But the don't go throughout all the album, only some tracks.
"Fire Sign" is a very heavy album, if you are acquainted with the term. Well, I guess it doesn't cause trouble anymore, but in the past it was hell. Metalheads started to think that only fast bands were really heavy. Flat wrong, guys. A band like Dynazty can be very heavy though the effects and things like that. Listen to the guitar wall of sound they make in "Ascension." Pretty good, huh? The keyboards are there to give the song a something else. The guitars have a big tone. Ok, forget the tech beginning of title track "Fire Sign," the song changes fast. Well, not really. But the effect make the song even harder due to the contrast of big guitar sound with the effects. Sounds really good. I gets a little swinggy as well.
Sometimes Dynazty in tracks like "Follow Me" reminds me of Yngwie Malmsteen most inspired songs. The ones before he went tripping being a guitar god, if you know what I mean. Strong guitar riffs, great vocals and catchy choruses. A formula that can't go wrong. To it Yngwie worked pretty until he went bananas. But Dynazty aren't only that. Dynazty are a band with lots of charisma. They do what they please, we can notice that hearing to "Fire Sign" album. I respect that a lot.
Dynazty "Fire Sign" was released on September 08th via AFM Records.
Track Listing:
Breathe With Me
The Grey
In the Arms of a Devil
My Darkest Hour
Ascension
Firesign
Closing Doors
Follow Me
Let Me Dream Forever
Starfall
The Light Inside the Tunnel
Watch "The Grey" official video here: