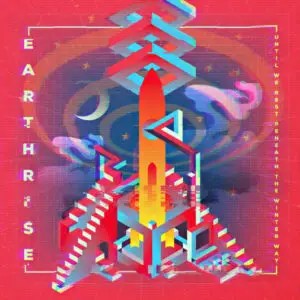 This is the classic kind of album that the cover deceives. Do you want to know why? Well, first thing first. The art cover deceives the fan when looking into the its colored as the rainbow art. It doesn't represent the gloomy and dark music in here at all. The doomy atmosphere is all around the album but I guess this isn't the total intent at all. Havng some second thoughts, this image may address to the ethereal and space mood Earthrise desire to showcase the fan. This is the kind of album that could be many things regarding to labeling. However, with "Until We Rest beneath the Winter" Earthrise go beyond. I guess some may call it post-Black Metal or even Atmospheric Black Metal, but it's not only the doomy traits but the progressive elements as the guitars in "Hypervigilant" and the despair and angst of "Generation Loss" that give the tone for the album. The jazzy tones the guitars find in "Hypervigilant" are pretty astonishing. It's not everyday that it's possible to catch this kind of influence in a Metal band. I find it amazing not knowing how to label an album. It means that the band worked pretty hard to themselves unique.
There is one especial trait that always calls my attention and that is when the guitarist tries a different guitar overtone. Here guitarist Mike Britson downtuned his guitar to a very impressive level. This overtone gives besides the unique quirky sound also a very heavy effect which combines pretty good with the doomy atmospheres the band does here. It contributes as well with the ethereal meaning the album is supposed to take. For the record, the bass is also very low tuned as well. My child of the night can check it out in the intro of "Our Work in the Stars Cannot Wait." By the way, with tracks with more than ten minutes "Until We Rest beneath the Winter" is an album with lots of variations. My guess is that Earthrise's intent was to fill the album with lots of emotions from the most chessy to the most complex. And in songs with that kind of length this is kind of mandatory. The ethereal and space influences made me fly high here. This is one thing that really makes a difference when evaluating an album. A especial highlight also to the drumming that keept the level of the musicianship very high.
I guess "Until We Rest beneath the Winter" could be even better if there were more guitar solos. They have the unique, and special, ability to rise the level and the emotion of any song. Just a thought.
Earthrise "Our Work in the Stars Cannot Wait" "Until We Rest beneath the Winter" will be released on October 14th.
Track Listing:
The New Man
From Below
Hypervigilant
Generation Loss
Our Work in the Stars Cannot Wait
Prisoner's Cinema
Engineers of the Human Soul
Void Hymn
Tears of Burning Light
Watch official video here: