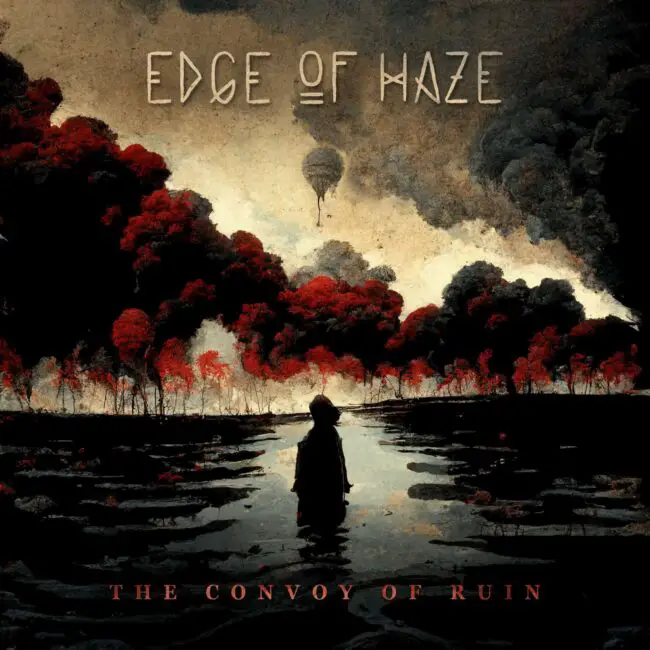 To work here with Metal Addicts writing reviews is to expect to be surprised in a daily basis. Maybe it's just me that changed my mind and got much more flexible than I was. Or maybe it's the bands that I receive that get better and better. I'll stick with both explanations. It's clear that my mindset helps a lot. It's also clear that Metal bands have evolved a lot since the late 1960s and early 1970s and the music got even more intense and technical. I remember a friend that used to say back then in the 1980s that Metal music was getting more and more difficult to play requiring a lot more from the musicians. The pure truth. Back then a band as Edge of Haze with their forthcoming album "The Convoy of Ruin" wouldn't have an easy life from critics and fans. Their combination of Metal music with some electronic effects that almost turned them into a modern Metal band surprises because Edge of Haze had the ability of using them wisely.
My dear child of the night will immediately strange the mix Edge of Haze did here. In fact, some tracks are a bit commercial and do address to the terrible A-Ha – so sorry, I couldn't help it. However, balancing everything together "The Convoy of Ruin" has a lot to offer the fan. Listen to album opener "Floods" with an open mind and heart and go on. The album will little by little add features that will diminish the commercial and modern Metal feeling and intent. The guitars get heavier and heavier and the solos here and there will pop up amazingly giving the album an extra spice. "Trailblazers," for instance, mix a stronger vocal with some 1980s Prog Rock treats giving the song its unique sonancy. It could be the unexpected mix of Marillion with Korn or some other random new Metal band. Following track follows the same steps without the 1980s Prog Rock traits with a heavier guitar with heavy as hell riffings. On second thought, while listening to "Heathen" and its strong bass lines I got the feeling that Edge of Haze may give the fan some mixed emotions. Maybe it's the more commercial oriented track of the album. But that doesn't take the light out of the album. There's a guitar solo that saves the day definitely. By the way, from what I've seen here this kind of combination is getting more common.
P.S.: The keyboard intro of "Birth" does remind a lot "Stranger Things" theme.
Edge of Haze "The Convoy of Ruin" will be released on November 01st via Darkening Tone Records.
Track Listing:
Floods
The Other Side
Remains
Parts of Anything
Instead of Gravity
Trailblazers
Endgame
Heathen
Birth
Watch "Parts of Anything" official music video: