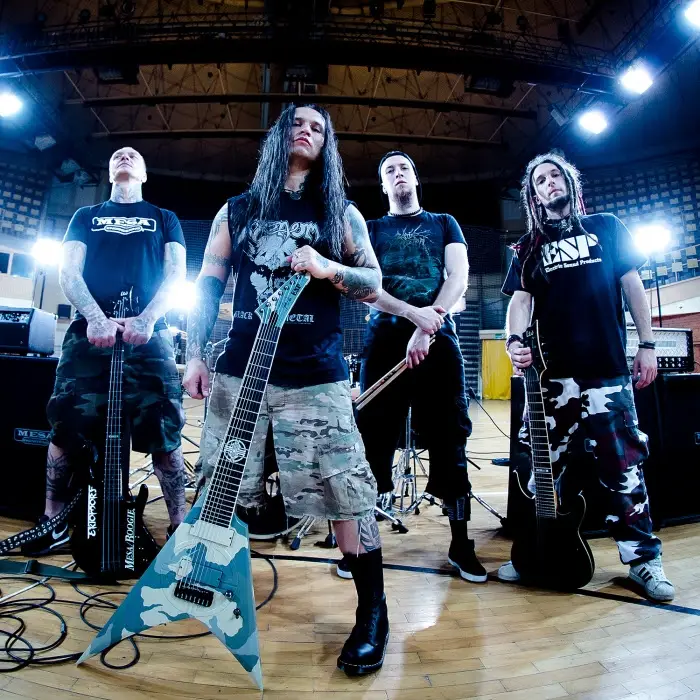 The Hungarians start their rebirth in Europe, It might be called: Everything's new but at the same time back to the roots. EKTOMORF are returning to their roots and experience a rebirth under the sign of thrash metal after 26 years of existence. With their new full length Reborn, the first album on Napalm Records, the Hungarian quartet catapults the genre into the modern era and frees itself from any pigeonholes.
Since their debut, Hangok (1994), the powerhouse around singer/guitarist Zoli Farkas has been delivering new grit at regular intervals. Only two years after the chart success of their Album Fury, the new full length Reborn ignites a blazing fire that wipes out all genre limitations and brings EKTOMORF their highest chart position in the band's history.
With Reborn, the group will embark on a major European tour this fall.
"We can't wait for it to finally start, especially after this long abstinence. I miss our fans a lot!", says bandleader Zoli. This will be the case when the tour kicks off on September 24 in Prague (CZ). Starting in Eastern Europe, the tour will continue to Germany, across France, Belgium and among others, towards Hungary for the hometown show in Bekescsaba on Zoli's birthday. He adds: "It was a dream of mine that I can play live in my hometown on my birthday."
The 15th studio album respires the spirit of the Big Four, METALLICA, SLAYER, ANTHRAX and MEGADETH, whilst marking the beginning of a completely independent, new chapter of EKTOMORF. With Reborn, EKTOMORF confidently start into a new era and sweep away everybody who even comes near this thrash metal bombshell!
Zoli continues: "This album was made during some very dark times in my life. If you listen to it, it will come through with all the crushing and heavy riffs: melancholic, beautiful melodies and honest, straight in your face lyrics. Reborn is the album I've been working on the longest in my career. There are a lot of new things in the songs that EKTOMORF never had done before, mixed with the roots of the band's sound. I'm very proud of it. I hope it gives you the same power it gives me."
EKTOMORF
Support: SystemHouse 33 & X-Method
24.09.21 CZ – Prague, Nova Chmelnice
25.09.21 PL – Warsaw, Hydrozagadka
27.09.21 DE – Berlin, Nuke Club
28.09.21 DE – Erfurt, From Hell
29.09.21 DE – Hamburg, Logo
30.09.21 DE – Cologne, MTC
01.10.21 DE – Bochum, Rockpalast
02.10.21 DE – Flensburg, Roxy
03.10.21 SE – Stockholm, Hus 7
04.10.21 SE – Gothenburg, Valand
05.10.21 DK – Copenhagen, Beta
06.10.21 DE – Osnabrück, Bastard Club
07.10.21 DE – Hannover, Bei Chéz Heinz
08.10.21 DE – Leipzig, Hellraiser
09.10.21 DE – Übach-Palenberg, Rockfabrik
10.10.21 BE – Diest, Hell
11.10.21 FR – Lyon, Rock'n Eat
13.10.21 DE – Munich, Backstage Halle
14.10.21 DE – Weinheim, Cafe Central
15.10.21 DE – Lindau, Club Vaudeville
16.10.21 CH – Aarburg, Musigburg
17.10.21 AT – Salzburg, Rockhouse Bar
20.10.21 CZ – Ostrava, Club Barak
22.10.21 DE – Zwickau, Club Seilerstrasse
23.10.21 SK – Bratislava, Randal Club
24.10.21 HU – Békéscsaba, Csabagyöngye Kulturális Központ