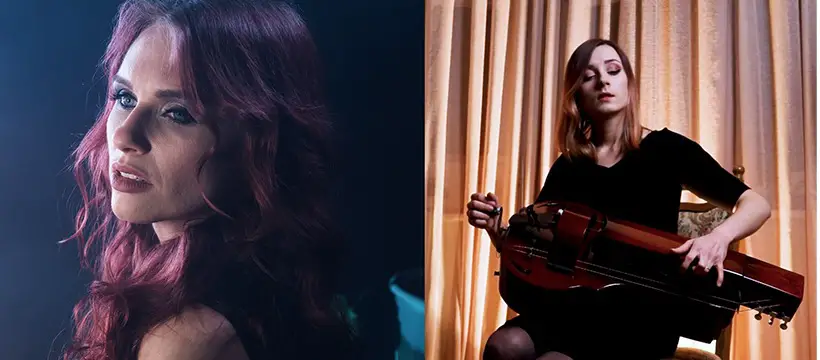 Michalina Malisz, a polish hurdy-gurdyist and a member of ELUVEITIE since 2016, unleashed her folky cover version of "Nothing Else Matters", song from METALLICA's fifth studio album released in 1991.
Her cover features her ELUVEITIE bandmate vocalist Fabienne Erni (vocals, Celtic Harp, Mandola). Make sure to check out their interesting cover below!
As you can see in this video, Michalina Malisz plays a very interesting instrument. It is called a hurdy-gurdy. Hurdy-gurdy, squat, pear-shaped fiddle having strings that are sounded not by a bow but by the rosined rim of a wooden wheel turned by a handle at the instrument's end. Notes are made on one or two melody strings by stopping them with short wooden keys pressed by with the left-hand fingers.
The hurdy-gurdy, like many other instruments is very easy to play some good sounding music on, but also provides years worth of learning if you want to delve deeply into it. It is mostly used in traditional folk music because of its specific tone. Many folk music festivals in Europe feature music groups with hurdy-gurdy players. the hurdy-gurdy is often used interchangeably or along with bagpipes, particularly in Occitan, Aragon, Cajun French and contemporary Asturian, Cantabric, Galician, Hungarian and Slavic folk music.
Between the year 2015 and 2017 ELUVEITIE announced their new line-up after departure of their violinist Nicole Ansperger because her family situation. During that time they have switched new members in the band and at the start of 2017 they announced their final line-up and new album "Evocation II: Pantheon". The album was released August 18, 2017 via Nuclear Blast Records. It was the first album to include Matteo Sisti, Michalina Malisz, Alain Ackermann, Jonas Wolf and Fabienne Erni as band members. The new family of ELUVEITIE now contains: Jonas Wolf (guitars), Matteo Sisti (whistles, bagpipes, mandola), Nicole Ansperger (fiddle), Alain Ackermann (drums), Chrigel Glanzmann (vocals, whistles, mandola, bagpipes, bodhran), Fabienne Erni (vocals, celtic harp, mandola), Kay Brem (bass), Michalina Malisz (hurdy-gurdy) and Rafael Salzmann (guitars).
ELUVEITIE infuses traditional Celtic folk melodies with Gothenburg-styled Melodic death metal. The band uses traditional folk instruments in their music, such as fiddles, bagpipes, tin whistles and flutes and also hurdy-gurdies. The traditional folk tunes in their songs have been drawn from various sources, including traditional Irish reels. While most of their lyrics are in English language, some are in the ancient extinct Gaulish language.