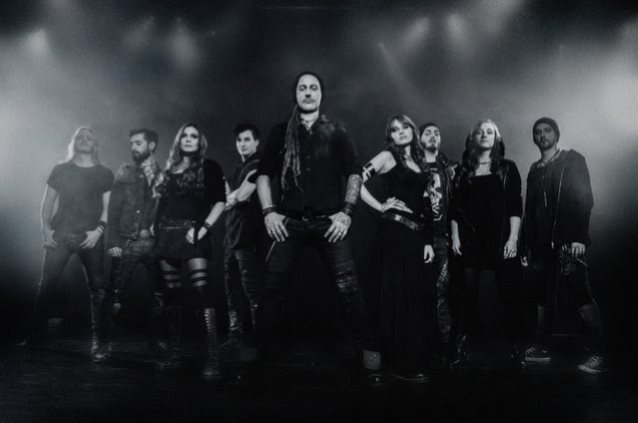 Swiss folk metal stars ELUVEITIE are going to release their new studio album Ategnatos on April 5th 2019 via Nuclear Blast. Today, the band presents the first track-by-track video. Check it and find out more about the songs "Ategnatos", "Deathwalker", "Black Water Down" and  "A Cry In The Wilderness":
Last week, ELUVEITIE released the brand new single "Ambiramus." The song can be heard and watched in the form of a music video. The music video was produced by the Polish company Grupa13 in January 2019 and can be seen here:
Chrigel Glanzmann states:
"It's definitely one of the most exceptional songs from our discography! 'Ambiramus' comes in quite groovy and with a light-hearted, yet racing folk reel in the chorus and a very accessible overall appearance; easily the brightest song we've ever written.

"Yet at the same time it goes to where the actual magic of traditional Celtic folk music exists: a place where cheerfulness and melancholy, hardship and hope, glee and deep mysticism meet to become one! And this deep, wistful yet hopefull mysticism is also found in the song's lyrics, which will take you to the very core of the Celtic mythology the album contemplates.
'Ambiramus' (gaulish for 'Voyage') is based on a late Celtic literary tradition – the so-called Immrama tales.

"'Ambiramus' is the last song we wrote for the album and it's probably the result of and a testimony to the very inspiring and creative atmosphere, in which we created 'Ambiramus' ! The song basically 'fell into place' after Alain finished the drum tracking, and it was written and arranged in just a few hours. We hope you enjoy it!"
Recordings of Ategnatos took place in their beloved New Sound Studio with their engineer of choice Tommy Vetterli. "Yet it was radically different as we only had four weeks to record this time around – as compared to the eight weeks we had for 'Origins'." By taking mixing duties to the skilled hand of renowned studio wizard Jens Bogren in his Fascination Street Studios in Örebro, Sweden, ELUVEITIE returned to the very spot where they mixed their now legendary Slania album more than ten years ago.
With Ategnatos, the dedicated nine-piece not only worked with a real string quartet (a premiere!) and granted Fabienne Erni's sublime mastery of the harp the room it deserved; they also undertook a holistic upgrade resulting in some of the most catchy, most aggressive or most epic tunes the Swiss Metal nobility has ever offered.