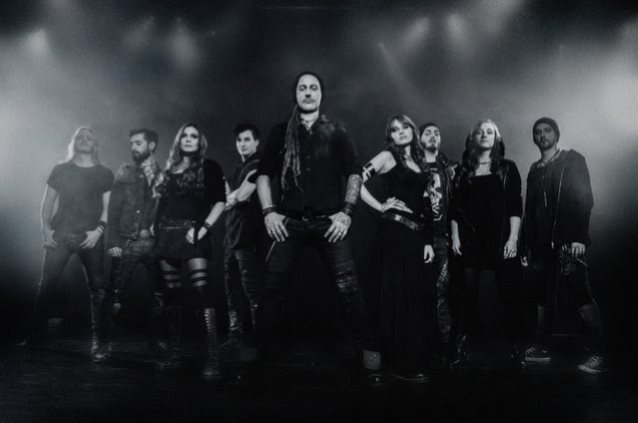 Swiss folk metal stars ELUVEITIE released their latest masterpiece "Evocation II – Pantheon", back in August via Nuclear Blast. This acoustic album continued the path of its precursor "Evocation I" (2009) and entered the charts worldwide, placing at #2 in Switzerland! All chart results can be found below.
Mastermind Chrigel and his fellow band mates proudly present a brand new single. The song entitled "Rebirth", is available worldwide now and gives fans an exclusive taster of what to expect from the forthcoming ELUVEITIE album! The official video for the new track was produced by Wolfgang Wolman & Oliver Sommer (AVA Studios) and you can check it out below.
Chrigel comments:
"After a longer period of playing many acoustic sessions, peaking in creating our much-anticipated second acoustic album »Evocation II – Pantheon«, we're of course more than excited to finally go about our next metal juggernaut! We've been gathering ideas since quite a while and yes, we started working on our next metal album! It will still take a while until we'll enter the studios again, since we first want to and will accomplish an amazing »Evocation II« touring cycle. But to soothe your [and our ;-)] waiting time, we recently gathered again in the legendary Newsound Studios to produce a first single off our upcoming metal album already – so welcome our youngest baby: 'Rebirth'!
We believe, it turned out a real monster of in-your-face folk metal and we're super proud of it. And we hope you'll enjoy it as much as we do! As always it is full of pristine celtic folk music and contains treasures such as the old Irish traditional 'Lads Of Laois'. But at the same time, 'Rebirth' comes with a steamrolling truckload of pure f**king metal!
Conceptually the song takes a rather philosophical approach on ancient Celtic spirituality and mythology (and so will our upcoming album)! We take ancient mythological images to contemplate them from the view point of our every-day life (no matter if "we" lived 2,000 years ago or today, because we believe that the deep meaning and significance of these images didn't change ever since)! 'Rebirth' deals with the ancient Celtic image of the "cauldron of rebirth", with it's meaning and with the darkest passages of our lives, through which we all have to go to arise reborn."