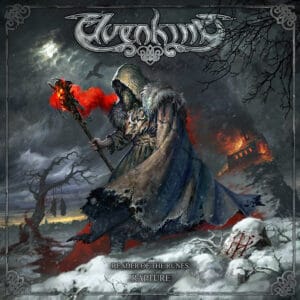 Here we've got "Reader of the Runes – Rapture" that is the following album to "Reader Of The Runes – Divination." "Rapture," was conceived to be the part two of Elvenking "Reader of the Runes" trilogy. From the previous album I got there was a more epic sense of the album. There were more Folk Metal traits as violins, female vocals, and some keyboards. On the opposite, when compared to "Divination" "Rapture" is flatter and rawer. "Divination" was Folk, "Rapture" is Metal. Giving it a better thought after considering both albums even though the almost four year gap, Elvenking are coherent with the ideas both albums deliver. I assume here the the risk of being redundant, but "Divination" deals with the divine therefore the Folk, on the other hand, "Rapture" deals with more earthly subjects and ideas therefore the Metal. It's a track as "The Cursed Cavalier" that tells me this tale with its galloping guitars and bass plus the melodic guitar interventions even though the background violions. There is some hidden Hair Metal poetry on vocals in it. There is some Bon Jovi in it.
My impression is that "Rapture" goes getting more Folk Metal traits as the album goes by. "To the North" is at the same time the heaviest track of the album and the one that adds more Folk Metal traits. Its final drumming gives a sprint that no track in the album has tasted. This incorporation of Folk Metal traits started with "The Cursed Cavalier" and its Bon Jovi vocals inspiration. With "Covenant" I feel the perfect balance of NWOBHM mixed with Folk Metal by the thundering bass lines balanced with the guitars. The track offers the perfect melt with the plus of some oriental driven guitars interventions that made them sound as like flutes. However, the album is made more of tracks as "Red Mist" where Folk Metal traits are in the background not making so much of a fuzz.
So there goes "Rapture" with its unique melt and unique Elvenking approach of Heavy Metal with Folk Metal. "Rapture" is an album of fine guitars wrapped in a subtle Folk Metal inspiration in order to give it its earthly and mundane spirit even though "Incantations" try to tell me otherwise. Not in a melodic manner, but lyrically.
Elvenking "Reader of the Runes – Rapture" will be released on April 28th via AFM Records.
Track Listing
Rapture
The Hanging Tree
Bride of Night
Herdchant
The Cursed Cavalier
To the North
Covenant
Red Mist
Incantations
An Autumn Reverie
The Repentant
Watch "Bride of Night" official music video here:
1725