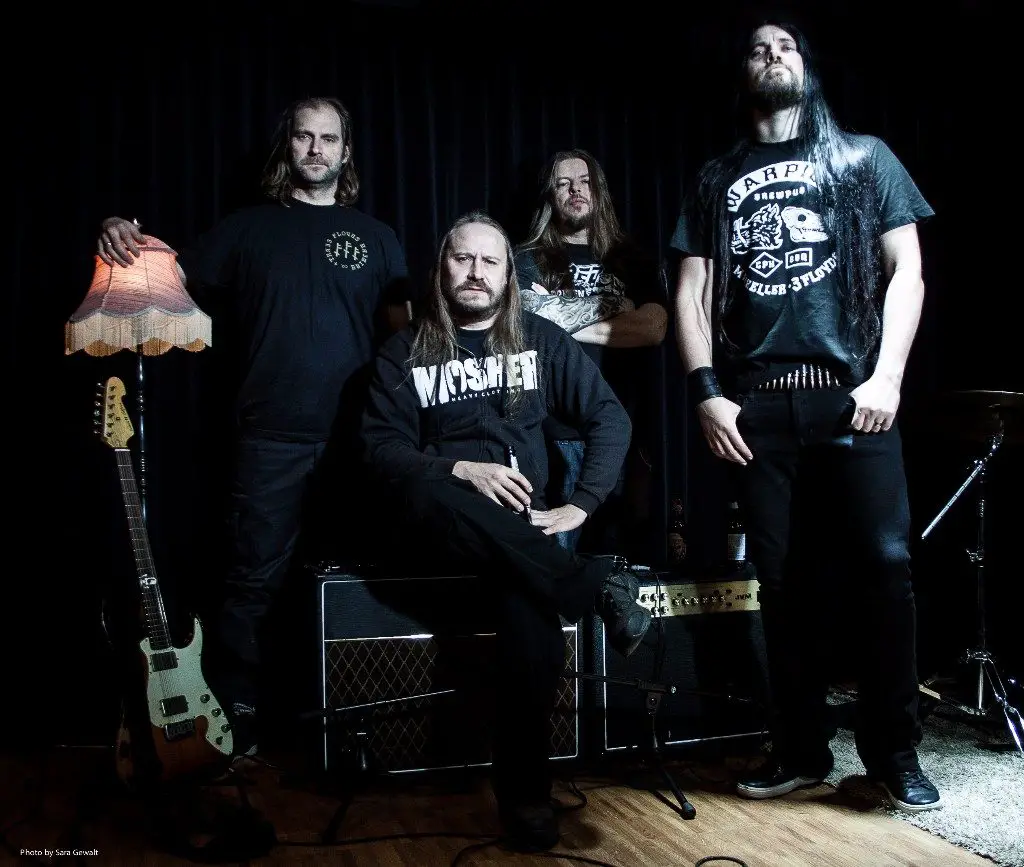 A deadly dawn is spreading across the land as ENTOMBED A.D. drops a horrifying new video for the title track off their newest album, "Dead Dawn". Zombies will attack, so hold on to your brains! You can watch the video below.
Guitarist Nico Elgstrand comments on the video: "Finally a serious video without the usual nonsense often associated with Metal these days. This one has depth and a very important message that we think is overlooked in today's media climate. Anyone with half a brain will stop with whatever they're doing and realize that we must take a stand against these injust accusations that metal is for stupid people, that's simply not true and this video we think portrayed it beautifully!
Enjoy this fine release that will leave you enchanted and content that you're a thinking individual with exquisite taste and that Entombed A.D. is telling it like it is, uncensored and amazingly with superior subtlety and finesse!!"
Right before their European tour with VOIVOD, LORD DYING, BARREN WOMB and MORBID EVILS, which starts tomorrow, ENTOMBED A.D., announced another North American tour for January 2017 with special guests FULL OF HELL and TURBID NORTH! See below for all dates.
Bassist Victor Brandt comments: "We are really happy to announce both our new video for the track Dead Dawn and also that we are coming back for another tour in North America! We have bands Full of Hell and Turbid North with us, so even more reasons to come to the shows.
Until then we are hitting the road with Voivod, Lord Dying, Barren Womb and Morbid Evils tomorrow, so see you in the pit and/or at the bar!"
ENTOMBED A.D. live:
Dead Dawn European Tour 2016
With VOIVOD, LORD DYING, BARREN WOMB and MORBID EVILS
26.10.2016 – Taubchenthal, Leipzig, DE *
27.10.2016 – White Trash Ballroom, Berlin, DE *
28.10.2016 – Alibi Club, Wroclaw, PL *
29.10.2016 – Progesja, Warsaw, PL *
30.10.2016 – Nova Chmelnice, Prague, CZ *
31.10.2016 – Arena, Vienna, AT *
01.11.2016 – Barba Negra, Budapest, HU *
02.11.2016 – Ortobar, Ljubljana, Sl *
03.11.2016 – Dagda Club, Borgo Priolo, IT *
04.11.2016 – Backstage, München, DE *
05.11.2016 – LEAFMEAL Festival, Dortmund, DE ***
06.11.2016 – Patronaat, Haarlem, NL *
08.11.2016 – Chango, Madrid, SP *
09.11.2016 – Bikini, Barcelona, SP *
10.11.2016 – Athanor, Albi, FR *
12.11.2016 – Petit Bain, Paris, FR **
13.11.2016 – Fleece, Bristol, UK **
15.11.2016 – Voodoo Lounge, Dublin, IR **
16.11.2016 – Classic Grand, Glasgow, UK **
17.11.2016 – Underworld, London, UK **
18.11.2016 – Schlachthof, Wiesbaden, DE **
19.11.2016 – Doornroosje, Nijmegen, NL **
20.11.2016 – O13, Tilburg, NL **
21.11.2016 – Markthalle, Hamburg, DE **
22.11.2016 – Voxhall, Aarhus, DK **
23.11.2016 – Amager Bio, Copenhagen, DK **
24.11.2016 – Markhalle, Hamburg, DE **
25.11.2016 – Club Cann, Stuttgart, DE **
26.11.2016 – K19, Kassel, DE **
27.11.2016 – Aladin, Bremen, DE **
28.11.2016 – Göta Källare, Stockholm, DE **
* opener: Barren Womb
** opener: Morbid Evils
*** with Avatarium, Voivod, Secrets Of The Moon, etc.
Dead Dawn US Tour 2017:
With FULL OF HELL and TURBID NORTH
1/06 BOSTON, MA @ ONCE BALLROOM
1/07 PHILADELPHIA, PA @ KUNG FU NECKTIE
1/08 BROOKLYN, NY @ SAINT VITUS
1/09 CLEVELAND, OH @ GROG SHOP
1/10 CHICAGO, IL @ REGGIES
1/11 MINNEAPOLIS, MN @ TRIPLE ROCK
1/12 KANSAS CITY, MO @ RIOT ROOM
1/13 DENVER, CO @ THE ROXY
1/14 ALBUQUERQUE, NM @ SISTER BAR
1/15 PHOENIX, AZ @ CLUB RED
1/16 SAN DIEGO, CA @ BRICK BY BRICK
1/17 LOS ANGELES, CA @ THE ROXY
1/18 SAN FRANCISCO, CA @ SLIMS
1/19 SACRAMENTO, CA @ STARLITE LOUNGE
1/20 PORTLAND, CA @ DANTES
1/21 SEATTLE, WA @ HIGHLINE
1/22 VANCOUVER, BC @ RICKSHAW