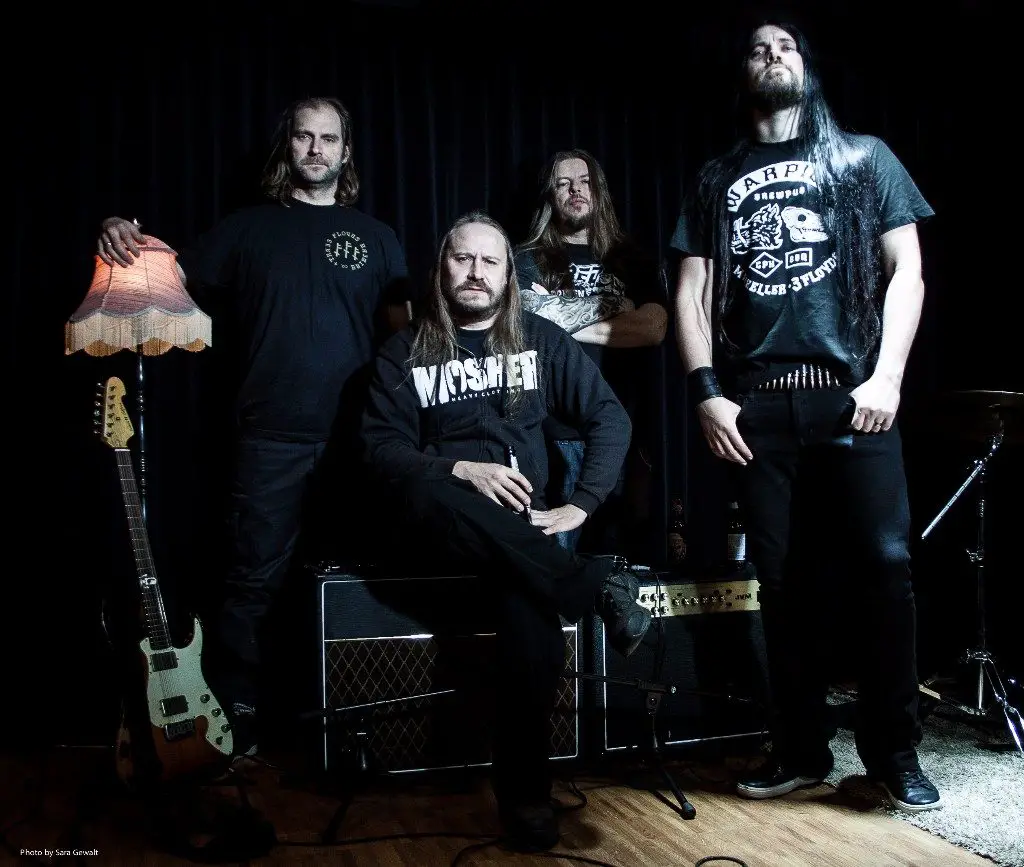 ENTOMBED A.D. are currently touring Europe together with Century Media Records label mates Voivod as well as Lord Dying, Barren Womb and Morbid Evils.
To celebrate this event ENTOMBED A.D. and Voivod have released a Split 7″ EP, which includes the Voivod track "Fall", off the "Post Society – EP" and previously unreleased on vinyl as well as the ENTOMBED A.D. track "Gospel Of The Horns", a rare track off the "Back To The Front" sessions and also previously unreleased on vinyl. The 7″ EP is worldwide limited to 1000x copies in the following editions:
600x Black vinyl (CM Distro)
100x Neon orange vinyl (CM Mailorder Europe)
100x Neon yellow vinyl (CM Mailorder USA)
200x White vinyl (Band edition)
You can order the release from CM Distro here.
Check out the ENTOMBED A.D. special fan voting set list, and the VOIVOD split 7″ here.
The white vinyl edition will be sold exclusively by the band/s on their current European tour.
ENTOMBED A.D., Voivod, Lord Dying – "Dead Dawn" European Tour 2016:
with support by Barren Womb * / Morbid Evils **
Presented by Metal Hammer, Rock Tribune, Slam & Headbangr
05.11.2016 Dortmund (Germany) – FZW / Leafmeal Festival
06.11.2016 Haarlem (The Netherlands) – Patronaat *
08.11.2016 Madrid (Spain) – Chango *
09.11.2016 Barcelona (Spain) – Bikini Club *
10.11.2016 Albi (France) – Athanor *
11.11.2016 Saint Nazaire (France) – Le VIP *
12.11.2016 Paris (France) – Petit Bain **
13.11.2016 Bristol (UK) – The Fleece **
15.11.2016 Dublin (Ireland) – Voodoo Lounge **
16.11.2016 Glasgow (UK) – Audio **
17.11.2016 London (UK) – The Underworld **
18.11.2016 Wiesbaden (Germany) – Schlachthof **
19.11.2016 Nijmegen (The Netherlands) – Doornroosje **
20.11.2016 Tilburg (The Netherlands) – 013 **
21.11.2016 Hamburg (Germany) – Markthalle **
22.11.2016 Aarhus (Denmark) – Voxhall **
23.11.2016 Copenhagen (Denmark) – Amager Bio **
25.11.2016 Stuttgart (Germany) – Club Cann **
26.11.2016 Kassel (Germany) – K19 **
27.11.2016 Bremen (Germany) – Aladin **
28.11.2016 Stockholm (Sweden) – Göta Källare **