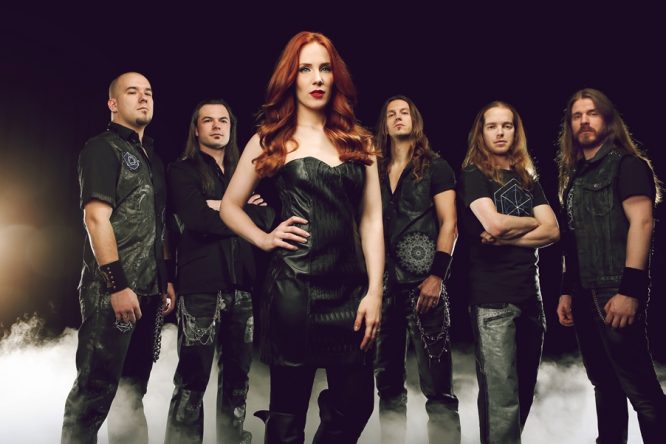 Dutch symphonic metal giants EPICA are more than proud to announce their return to Latin America. Upcoming March, the band will finally return to Latin America for the first time since 2015! On this tour, EPICA will perform 8 dates in Brazil including cities where the band has never performed during their 15-year career, next to additional dates in Argentina, Chile and Uruguay.
The band is excited to perform tracks of "The Holographic Principle" and "The Solace System" for their Latin American fans for the first time.
EPICA recently released their new EP "The Solace System". Read more about it here.
EPICA guitarist Mark Jansen comments: "We are very happy to announce we are finally returning to Latin America! As I have noticed many fans are so much looking forward to that as well. We are all very excited and can't wait to party with you guys!!!"
2018-03-01 Montevideo (Landia) UY
2018-03-03 Santiago (Teatro Caupolican) CL
2018-03-04 Buenos Aires (Teatro Flores) AR
2018-03-06 Salta (Teatro del Huerto) AR
2018-03-09 Belo Horizonte (Music Hall) BR
2018-03-10 Sao Paulo (Tropical Butanta) BR
2018-03-11 Rio de Janeiro (Circo Voador) BR
2018-03-13 Porto Alegre (Opiniao) BR
2018-03-14 Curitiba (Spazio Van) BR
2018-03-16 Manaus (Teatro Manauara) BR
2018-03-17 Fortaleza (Armazem) BR
2018-03-18 Recife (Clube Portugues do Recife) BR
2018-04-06 Nottingham (Rock City) GB
2018-04-07 Glasgow (ABC1) GB
2018-04-08 Bristol (O2 Academy) GB
2018-04-10 Dublin (Tivoli) IE
2018-04-12 Manchester (O2 Ritz) GB
2018-04-13 London (O2 Forum) GB
2018-04-14 Tilburg (013) NL
2018-06-20 Halden (Tons of Rock) NO
2018-08-02 Wacken (Wacken Open Air) DE
2018-08-17 Graz (Metal On The Hill) AT
2018-08-18 Moravský Krumlov (Rock Heart) CZ
On September 1st, EPICA proudly unleashed their long-awaited EP "The Solace System". This EP includes six brand new tracks, which were written and recorded during the process of their latest album "The Holographic Principle", which charted worldwide!