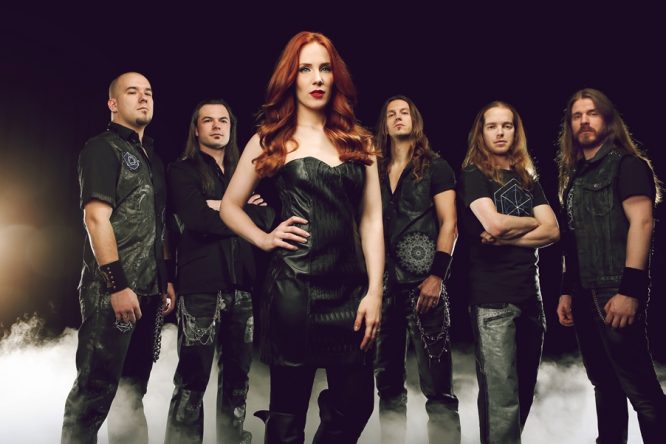 Dutch Symphonic Metal giants EPICA are returning for the European leg of "The Ultimate Principle Tour" upcoming November. Following their successful European co-headline tour with POWERWOLF earlier this year, EPICA will tour Europe once more. EPICA will be supported by Anneke Van Giersbergen's new all-star band VUUR and Tunisian Progressive Metal band MYRATH.
Simone Simons commented on the upcoming tour: "Europe! After our successful tour with POWERWOLF we couldn't wait to tour through Europe again! We are coming back for you full force this autumn. A full production and an awesome line up awaits you. Get your tickets fast and come hang out with us!"
Order "The Holographic Principle" here.
Tour Dates:
2017-05-05 San Jose (Pepper's Club), CR
2017-05-06 Tegucigalpa (Hotel Clarion), HN
2017-05-09 Chihuahua (Expo), MX
2017-05-11 Mexico City (Pepsi Center), MX
2017-05-12 San Luis Potosi (Cineteca Alameda), MX
2017-05-13 Guadalajara (Teatro Diana), MX
2017-05-15 Monterrey (Excena), MX
2017-05-17 Bucaramanga (Auditoria Luis A. Calvo), CO
2017-05-18 Medellin (Teatro Universida De Medellin), CO
2017-05-19 Cali (Teatro Jorge Isaacs), CO
2017-05-21 Bogota (Royal Center), CO
2017-06-07 Milano (Alcatraz), IT
2017-06-08 Interlaken (Greenfield Festival), CH
2017-06-10 Paris (Download Festival), FR
2017-06-11 Dordrecht (Bibelot), NL
2017-06-14 Tel Aviv (Barby), IL
2017-06-16 Dessel (Graspop Metal Meeting), BE
2017-06-17 Nickelsdorf (Nova Rock), AT
2017-07-13 Vizovice (Masters Of Rock), CZ
2017-08-04 Corroios (VOA Fest), PT
2017-08-09 Villena (Leyendas Del Rock), ES
2017-08-16 Dinkelsbühl (Summer Breeze), DE
2017-08-23 Straszecin (Czad Festival), PL
2017-10-20 Zwolle (Hedon), NL
2017-10-21 Haarlem (Patronaat), NL
2017-10-22 Nijmegen (Doornroosje), NL
2017-11-09 Krakow (Klub Studio), PL
2017-11-12 Berlin (Kesselhaus), DE
2017-11-13 Hamburg (Markthalle), DE
2017-11-14 Köln (Essigfabrik), DE
2017-11-15 Metz (La BAM), FR
2017-11-17 Nantes (Stereolux), FR
2017-11-18 Bordeaux (Krakatoa), FR
2017-11-25 Marseille (Le Moulin), FR
2017-11-26 Lyon (Le Transbordeur), FR
2017-11-29 München (Backstage), DE
2017-12-03 Lille (L'Aeronef), FR