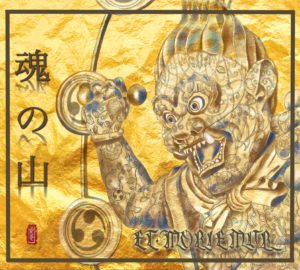 "Tamashii No Yama" starts gently with kindly piano notes. The fan isn't used to Atmospheric Doom Metal will strange the initial notes and mooding. I call this kind of entrance track deceptive because it leads the fan to a deception. However, this isn't rare in terms of Metal music. This kind of intro has been used since the dawn of Metal times for all kinds of bands. In general, the idea was really to be a deception. If my dear fan gets the memory right, 1982's Accept's "Fast as a Shark" showcases this kind of intro – maybe it's the most famous deceptive intro of all Metal times. That time many people would be deceived by the from the guts yell Udo Dirkschneider gave leading to the carnage. Well, "Tamashii No Yama" is exactly the opposite. The shock isn't given by the high speed, on the contrary, it's the slow cadence that leads the song having a highlight in the strong tempos which are clearly given by Doom Metal bands.
As I always do when reviewing, the things that called my eye here are the white noise Et Moriemur wisely use. This white noise maybe given by keaboards, general sounds, odd instruments, and many more. This is what gives the band its personality and takes its music to a higher level. Some tracks as "Nagoya" are in the midst of Progressive Rock and Jazz Rock, a mix that is being highly used by bands that want to give the fan something else from its music. In fact, Progressive Rock is a fair element that spices the band's songwriting. Some tracks get real heavy as "Otsuki" with its strong and thick guitars and an interesting guitar riffing and an even more interesting guitar solo using only effects. Last, but not least track, "Takamagahara" is the one that gathers all the musical sense of the band. All Et Moriemur's musical philosophy is there. Therefore, I recommend my dear fan to begin with it. The way the band mix the vocal despair and the sweetness of the instrumentals is amazing. The emotional content is very strong that it's almost impossible not to like it at the very first listening. This kind of contrast kills me.
An interesting remark about "Tamashii No Yama" is that all songs are geografically related aand they are all existing places in Japan excpet for "Takamagahara" that is a mythical place. If you my dear friend is curious about how I got this right my answer is that some of the places I've heard before and got curious to test if there was a pattern. Well, in fact, there was. Now you my dear fan is much more clever with my help.
I'm always suspicious about Doom Metal efforts. Maybe I'm too strict with them, maybe they're too strict to me. I really don't know. Whatever may suit you my dear fan.
Et Moriemur "Tamashii No Yama" will be released on April 08th via Transcending Obscurity Records.
Track Listing:
Haneda
Sagami
Oshima
Izu
Nagoya
Otsuki
Takamagahara
Watch "Otsuki" official video here: