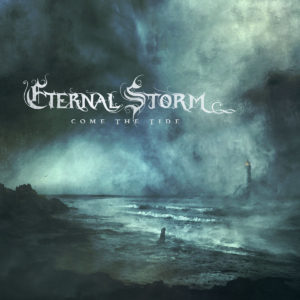 I spent all my teens in the 1980s and I was obliged to listen all the crapy music that was streamed around those days. It was impossible not to listen to – pardon me – Michael Jackson's 'Thriler" or another piece of s* music that was the trend those days. For our sakes, Metal saved the 1980s as well as saved a lot of lives including mine. Teens that 'miss' 1980s music these days really don't know the hell it was to go to a place and everybody staring at your Accept's T-shirt and have to listen to A-Ha or Tears for Fears just to get together to a girl. Life sucks! Another feature that only a few states about the 1980's is that there was a revival of the 1950s and together with that all trendy bands – or something like that – were obliged to feature a saxophone solo. I used to hate saxophones just because…
Now the years went by. New wave, new romantics, new s* are all gone and forgotten, at least for me. So, I get this Eternal Storm with "Come the Tide" to check it out and I discover on the second track, "Through the Wall of Light Pt. II," a saxophone solo into a Death Metal song. How come? Is this world going bananas or what? Well, I have to confess that I loved it. It works pretty fine into "Through the Wall of Light Pt. II" giving an aura – if that is possible. Eternal Storm are a band that are able to blend all together the agression of Death Metal with the emotion of Gothic Metal and the resource of Technical whatever with being lame. All songs in "Come the Tide" have their bit of melody interwoven with the best quality Death Metal ever without loosing any of their carnage and brutality. From where I'm standing, songs got even more brutal with all this melodic grip as in "The Mountain" and its beautiful and exquisite instrumentals and a shrieking and dark vocal. Once again a Death Metal band as Eternal Storm shows the world that brutality and melodies can walk together hand by hand and the outcome is breathtaking.
It's very hard to spark only the track from the eight tracks of "Come the Tide" due to their extreme quality. Eternal Storm are showing a facete that was hidden by Death Metal bands which is the melody and the emotion. "Winter and Treason," for instance, has a beautiful and delicate fingered acoustic guitar intro that leads to a complex and tender guitar riffing which is tormented by a disturbed vocal to always remind us how harrowed this world can be. All the anguish in this lonely and sad planet can't describe vocals here.
Eternal Storm "Come the Tide" was released on August 23rd via Transcending Obscurity Records.
Track Listing:
Through the Wall of Light Pt. I
Through the Wall of Light Pt. II
Detachment
The Mountain
Winter and Treason
Drifters
The Scarlet Lake
Embracing Waves
Watch "Detachment" official music video here: