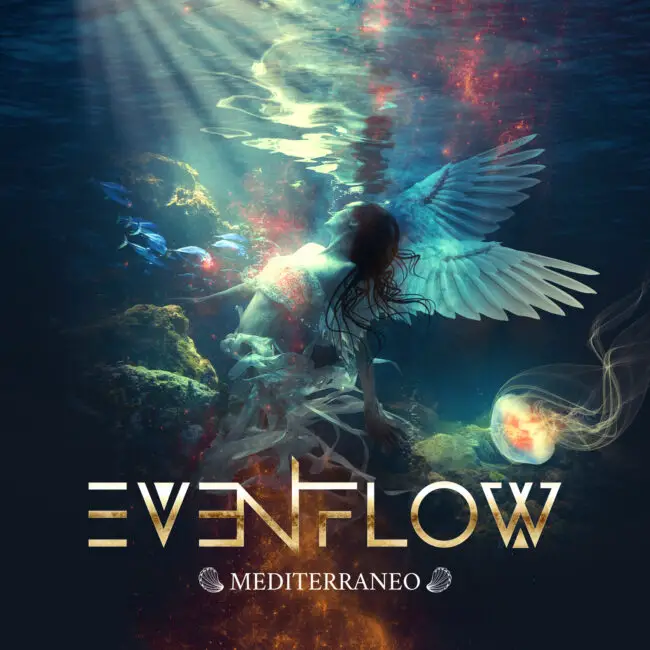 Two things immeadiately attracted me to this release. Both are related to names. First of all, the band's name Even Flow that straight away addressed to Pearl Jam's song. Second of all, the album tittle which addressed me to Al Di Meola's "Mediterranean Sundance" in its acoustic version in "Night at San Francisco" with Al Di Meola, Paco De Lucia and John McLaughlin. An album that I recommend my dear fan to listen carefully. Not even a bit Metal , but fantastic acoustic guitars. Now my dear fan might be asking if "Mediterraneo" has anything to do with "Night at San Francisco." The answer is no. Not a damn thing. But the album is good. Very good. I forgot to say but I was also attracted to what the press release said about the band. It sparkled my interest somehow.
The main idea of giving an album the name of a sea or an ocean or even any toponymy is to transport the fan to the place the band is honoring. Muysic has somehow this magic way of triggering images and feelings into one's mind. Hence, mentally transporting. To some extent, Even Flow achieve this goal with flying colors. With welcoming track "Ocean Lies" enables the fan to feel the smell of salt that come from the seashore. With heavy guitar riffings the five minute song gets dressed with the sea breeze by the 1970's inspired jazzy rock guitar passages with a subtle keyboard in the background. Guitar effects in tracks like "Ray of Light" kind of beam the fan to the 1980's Progressive Rock of Marillion or Yes' "Owner of a Lonely Heart" era. On the other hand, musicwise, "Mediterraneo" has also many connections to 1980s AOR with the singalong choruses and the tonal guitars. "Revelation Day" is a track that has this sonancy. It's about the guitars and the keyboards where that little bit of different thing of the band showcases.
After minutious listening and thoughts around the five tracked "Mediterraneo" and its many plot twists and changes of heart and mooding I got the feeling that the album achieved its goals of beaming the fan to the seashore. The tracks have that fresh feel of the sea breeze and its even possible, if the fan closes the eyes, to listen to the seagulls. Tittle track "Mediterraneo" makes the fan feel the warmth of the sun with a modern wrapping including some oriental feels with the initial guitars. I won't recommend the album for Prog Metal fans only, I'll recommend to anyone who likes great and inspired music.
Even Flow "Mediterraneo" will be self-released on October 03rd.
Track Listing:
Ocean Lies
Ray of Light
Leaves
Revelation Day
Mediterraneo
Watch "Ocean Lies" official music video here: