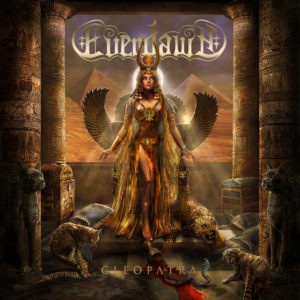 Unlike my peers, I consider Symphonic Metal a kind of point of entry to heavier sides of Metal. I guess it's the only subgenre of Metal that still have a dialogue with other poppier genres. There are many fans of Symphonic bands that do follow some pop stars, and, with time and patience, they will come into Metal itself. It's also the Metal subgenre where almos all vocalists are women, usually sopranos. I guess I don't have to remind my dear fan that I simply adore female vocals and the combination found in Symphonic bands is adorable. The contrast between gentle and sweet female voice with the harsh sound of distorted guitars, thundering basses and spanking drumming is a hell of killer one.
Here we have Everdawn with their debut album "Cleopatra" – well, debut as Everdawn, because the band had another life as Midnight Eternal. The album is a homage to the most famous and strongest queen of the Ancient Egypt. The album isn't a concept and here and there are mentions to her as in, of course, tittle track "Cleopatra." When I review a subgenre that has so many hard characteristics as Sympho I like to pull out the things that set the band apart. Everdawn and"Cleopatra" are undoubtedly heavier with clear guitar riffs and almost no keyboardings. Only "Your Majesty Sadness" has prominent keyboardings and a cool vocal duet with Therion vocalist Thomas Vikström. That makes their music near most Metal acts except for Alina Gavrilenko's soprano vocals. Her voice stands out for being very soprano. I mean, she uses her voice as a soprano for most of the time she sings unlike some peers. That mix makes "Cleopatra" unique. It's incredible the reach of her voice not only for the pitch, but also for being able to sustain it for a long time. I have to stress out the neat guitar interventions throughout the album making the songs even more striking.
I do support bands like Everdawn not only for their music, which is awesome, by the way, but also for having female vocals. Metal music could use much more women in its ranks. Their presence is more than welcome.
Everdawn "Cleopatra" will be released on February 05th via Sensory Records.
Track Listing:
Ghost Shadow Requiem
Stranded in Bangalore
Cleopatra
Your Majesty Sadness
Infinity Divine
Pariah's Revenge
Lucid Dream
Heart of a Lion
Toledo 712 A.D. (instr.)
Rider of the Storm
The Last Eden
Watch "Your Majesty Sadness" official video here: