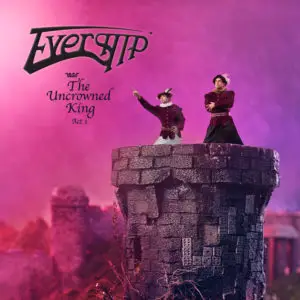 Metal Addicts and Evership have a story. Not too long, but even though a story. In 2016, I was giving my first steps into this passionate and highly addictive thing of writing reviews for the page. That time I was receiving the material from the other guys who also kindly tought me how to. As I'm too anxious and restless this situation of waiting to receive material couldn't satisfy me at all. I was absolutely unable to stay put and wait to get the material. I have to go for it, you know. I need to have my own sources. I don't know if my fan understands what I'm saying. I can't just stand still and wait to new material. Well, then, as everything in life when you go for it you eventually get it I did it. Now I have lots of my own sources and that's why I write so much besides being a compulsive writer. So back to the story, I remember to have seen an add of the band on Facebook about the release of their debut album and I decided to get in touch with Shane Atkinson – the mastermind of the band – who absolutely was a gentleman to provide me everything I needed. I clearly remind that he was kind of astonished of having a Metal page interested in reviewing Evership which he didn't think had enough cross features. Long story short, not to bore my fans with my stories, in a nutshell here we are now in 2021 and that's Evership's third album.
It's so good to see that in "The Uncrowned King Act 1 v2" Evership haven't left their beliefs aside. The band still does its Prog Rock with clear influences of 1970s Kansas and Emerson, Lake and Palmer. I dare to say that this album is much more Kansas than ELP, if you ask me. It's an album that from my point of view has many more Prog Rock features. I'd say – pardon for the word – it's a more typical Prog Rock album. "The Uncrowned King Act 1 v2" reminds me the golden era of Prog Rock in the early seventies when it was the top of the pops. Yeah, my dear child of the night. Only the young at heart as me will remember that there was a time that poop music, sorry, pop music was led by bands as Yes, Kansas, ELP and Pink Floyd. By the way, this is the album that Evership remind Kansas the most. As a coincidence or not, "The Uncrowned King Act 1 v2" has the longest instrumental passages where the keyboard has the prominence and leads the songs.
Fun fact is that the album acts like a sandwich with two long tracks – ten minutes each – as starters "Crownshine-Allthetime" and "The Pilgrimage" followed by four songs with less than five minutes – well, to be really fair and accurate "The Tower" has nine minutes, but let's not loose the thought that it's good – to the grand finale with "Yettocome-Itmightbe." As I said before, "The Uncrowned King Act 1 v2" has many Prog Rock features as it reminds a lot Rick Wakeman's epics "Journey to Center of the Earth," and most of all, "The Myths and Legends of King Arthur and the Knights of the Round Table."
Basically, Evership brought back the finesse and good taste to music with the album. It was such a pleasure to have the great oportunity of following the band's career.
Evership "The Uncrowned King Act 1 v2" was released on May 21st.
Track Listing:
Crownshine-Allthetime
The Pilgrimage
The Tower
The Voice of the Evening Wind
The Voice of the Waves
Wait
Yettocome-Itmightbe
Watch "Crownshine-Allthetime" official video here: