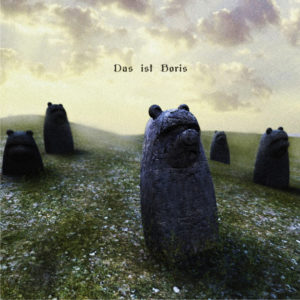 Here's another EP. These days we are reviewing lots of EPs and lots of weird stuff. Well, a piece of advice, this is not Metal. With lots of good will, it may be considered art rock. However, as you may notice by listening to first track "Fight Club," the term acid soul wouldn't be that wrong or far from what Evil Bear Boris do in "Das ist Boris." It sounds a  lot with 1970s soul with a real dash of art rock. In "Fight Club" the harmonica is the leading instrument getting all the attention. The leading bass on the mid third minute reminds a lot ELP bass and keyboard lines. However the harmonic breaks all the resistance and takes all the credit. I believe that "Fight Club" is the track that will amaze more due to its energetic cadence and positive vibe.
We have to agree that besides the fact of leveraging piracy, internet gave lots of more independence and opportunities to small labels and to independent bands. It was against all odds that all those changes really benefited some niches in music. It would be very difficult to a band like Evil Bear Boris to record in the past. Simply there would be no market to the uncanny, though fun, music they make. The soul grip attracts a lot. If you are in the mood of changing hearts, here's your opportunity.
The leading phrase of "Evil Bear Boris" is very catchy maybe because to the horn section that makes all the difference and drives all the attention. It sounds like making love some artists would say. I guess it does. It feels like dancing, I might add. Last, but not least, track "Geheimnisse des Dritten Reichs" sounds more 1980s art rock. Keyboards do the lead in an epic way mixed with some violins. Catchy and strong. It really does people's mind even though you're not that into their music. Drums fillings sound great as well and do a great job giving a sense of bigger sounding.
Evil Bear Boris (aka IWKC) "Das ist Boris" was released on July 7th, 2013 via Addicted Label.
Click here for BandCamp.
Click here for EP YouTube video.
Track Listing:
Fight Club
Evil Bear Boris
Geheimnisse des Dritten Reichs
Watch "Fight Club" official video here: