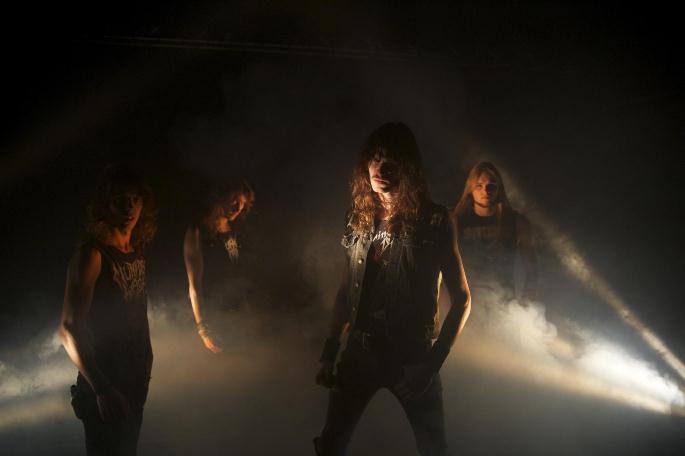 Belgium's Technical Thrash/Speed Metal young bloods EVIL INVADERS are proud to release a brand new video clip for "As Life Slowly Fades", off their upcoming album "Feed Me Violence". This new Extreme Metal opus will be released on September 29th via Napalm Records worldwide!
The band commented on the song:
" 'As Life Slowly Fades' is a fast, crushing tune that takes you on an emotional trip through the dark side of the mind. It is a story about the inner battle against the ongoing decay of emotions and the test of mental strength!
This track goes from fast-paced Thrash to a very cool mid-tempo pace, which reminds of Painkiller and there's even some Death influences here and there. The song goes up and down and has some very cool tempo changes.
There's a constant evil vibe, like a line going on throughout the song, which seems to disappear during the middle as the solo kicks in, but at the end it comes back like a sledgehammer smashing your face!"
Check out the video for "As Life Slowly Fades" below.
On top of all of this news, EVIL INVADERS recently announced their upcoming European tour run with GRAND MAGUS in October + November! They can't wait to hit the road in support of their upcoming album "Feed Me Violence"! Expect a band on fire with a brand new stage set-up! Don't miss out the band live as EVIL INVADERS are bringing Speed / Thrash Metal to a whole new level!
"Feed Me Violence" Track listing:
1. Mental Penitentiary
2. As Life Slowly Fades
3. Suspended Reanimation
4. Broken Dreams in Isolation
5. Feed Me Violence
6. Oblivion
7. Shades of Solitude
8. Anger Within
9. Among the Depths of Sanity
"Feed Me Violence" is a must-have for every guitar-freak and for fans of Death, Slayer, Kreator and Judas Priest's Painkiller! "Feed Me Violence" will be available on September 29th in a regular Jewel Case edition, 1LP Gatefold Edition and a digital edition.
Catch EVIL INVADERS live on tour:
30.09.17 BE – Aarschot / De Klinker / Album Release Show
06.10.17 FR – Bordeaux / Interceptor Fest
20.10.17 FR – Dijon / Rising Fest
21.01.17 CO – Bogota / Metal Millennium Festival w/ Municipal Waste
Supporting GRAND MAGUS:
27.10.17 DE – Munich / Backstage
28.10.17 CH – Aarau / Kiff
29.10.17 CH – Geneva / L'Usine
30.10.17 AT – Vienna / Viper Room
31.10.17 AT – Dornbirn / Conrad Sohm
01.11.17 AT – Graz – Explosiv
02.11.17 PL – Cracow / Kwadrat
03.11.17 DE – Leipzig / Hellraiser
04.11.17 DE – Berlin / Columbia Theater
05.11.17 DE – Stuttgart / Wizemann
06.11.17 DE – Hannover / Musikzentrum
07.11.17 DE – Aschaffenburg / Colos-Saal
08.11.17 DE – Nürnberg / Hirsch
09.11.17 NL – Eindhoven / Effenaar
10.11.17 DE – Cologne / Essigfabrik
11.11.17 DE – Weissenhauser Strand / Metal Hammer Paradise