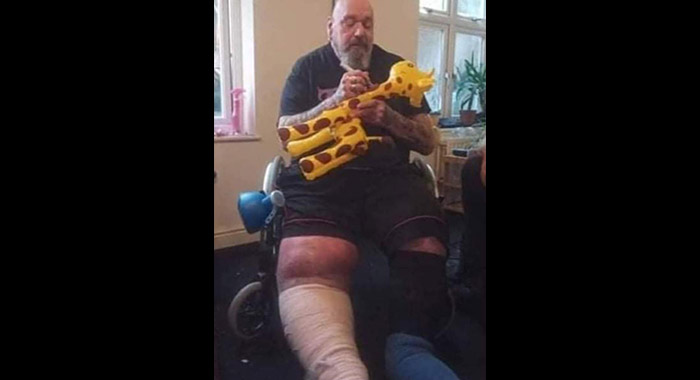 Former IRON MAIDEN vocalist Paul Di'Anno will undergo his long-delayed knee surgery later this week.
The operation will take place in Croatia and will be performed by a doctor who is a fan of Di'Anno's music.
Earlier today, Kastro Pergjoni, operations director of the Cart & Horses pub in Stratford, London, England where IRON MAIDEN made its live debut in 1976, shared a photo of him with Di'Anno and  Di'Anno 's surgeon at Poliklinika Ribnjak in Zagreb, and he included the following message: "How about this — out of the blue, the doctor here is big Di'Anno fan. Paul you're in safe hands."
Last year, Pergjoni discussed his fundraising efforts during an appearance on the "Uncle Steve's Iron Maiden Zone" podcast. When asked if he has approached the members of IRON MAIDEN themselves to contribute in some way to the Di'Anno campaign, Kastro said: "Myself, no, I haven't, to be honest, because I don't wanna put things… What's the best way to say it now? It's not up to me to go to them, because I have no connections with IRON MAIDEN themselves.
"Even when I [need to approach] Steve [Harris, IRON MAIDEN bassist], I go through his friends or his sister sometimes or close friends that he's got to get stuff from him. But to go to MAIDEN for something that is related to MAIDEN, I don't think that it is me personally, or Cart & Horses, the ones to contact them. I'd love if they come forward and just cover whatever is left or say whatever, but I don't think it's down to me to go to MAIDEN. Because [Paul's] got friends and he's got connections with MAIDEN more than I have, so if MAIDEN wanted to, or if somebody else wanted to, they would have done it. But so far, nothing, unfortunately, no."
Di'Anno performer on two classic albums with IRON MAIDEN — a self-titled effort in 1980 and Killers in 1981 — before being fired and replaced by Bruce Dickinson.