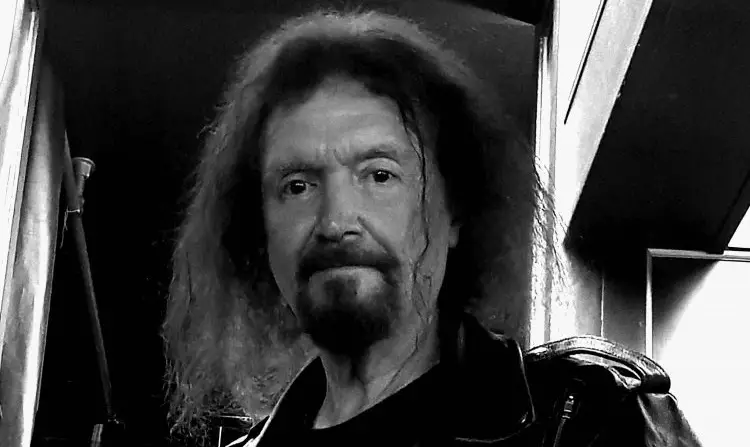 In a new interview with Canada's The Metal Voice, Former JUDAS PRIEST drummer Les Binks has opened up about the recent surprise revelation that he was not involved in the recording of the debut album from KK'S PRIEST, the new band featuring fellow ex-JUDAS PRIEST members K.K. Downing and Tim "Ripper" Owens.
When KK'S PRIEST's formation was first announced in 2020, Binks was listed as a member of the group, and was scheduled to take part in the making of Sermons Of The Sinner, which is now due on August 20 via Explorer1 Music Group/EX1 Records.
However, earlier this month, it was revealed that the drum tracks on the disc were actually laid down by Sean Elg (DEATHRIDERS, CAGE) after Binks sidelined due to "a wrist injury."
"This all came about from a one-off show that we did up in Wolverhampton, at K.K.'s Steel Mill, with Ripper," Binks said. "And it really was that — it was supposed to be a one-off thing. And I think K.K. enjoyed being out there on stage again, and he got the itch to go back on the road and to take it out and play to the fans again.
"And so he contacted me again after that, shortly afterwards, and asked me if I would like to make it a more regular band. And I agreed to that, [I] thought it would be a good idea. And he said, 'We'll have to do some fresh material, get an album together, and then do a tour.' He set up management and everything else, and everything was looking rosy. So that was the plan — let's do an album and then go straight on tour."
"We did that show in November 2019, and we're in 2021 now. So, of course, the recording sessions were set up, and I had a bit of a nasty accident and injured my wrist at the time, which was really bad timing," he continued. "I didn't wanna delay the whole thing, 'cause I knew [K.K.] was anxious to get out on the road. So I suggested that they use another drummer, so that the album could carry on and be done. Because Ripper was flying over [to the U.K. from America] to do his vocals and so on and so forth. And luckily, he managed to do that before the lockdown came in and travel between America and the U.K. became rather a no-no."
"I thought I just got a nasty sprain, but it turned out to be — after I've had it X-rayed — a little hairline fracture," Binks added. "So it took quite a few months to heal properly. And I'm more or less back to full fitness again. That was quite some time ago, obviously. And then, of course, the COVID thing happened, which screwed everything up.
"Not only for the plans that we had to go on tour, but everybody — the whole music industry, the West End shows. It's devastated the musicians' livelihoods, the road crews, the lighting people — everyone connected to live music entertainment. Everybody knows it's been a total disaster."
Sermons Of The Sinner is an incredible collection of future metal classics, sure to be one of the stand-out metal releases of 2021. K.K Downing's genre-defining guitar style helped establish JUDAS PRIEST's iconic sound and helped propelled them to one of the top Heavy Metal bands of all-time, earning numerous  accolades including a GRAMMY® in 2010 for "Best Metal Performance," a total of five GRAMMY® nominations and multi-platinum and gold releases.
You can pre-order Sermons Of The Sinner via Amazon here.
Sermons Of The Sinner track listing:
01. Incarnation
02. Hellfire Thunderbolt
03. Sermons Of The Sinner
04. Sacerdote Y Diablo
05. Raise Your Fists
06. Brothers Of The Road
07. Metal Through And Through
08. Wild And Free
09. Hail For The Priest
10. Return Of The Sentinel
KK'S PRIEST is set to tour worldwide as soon as current restrictions are lifted. Details of touring to be announced.