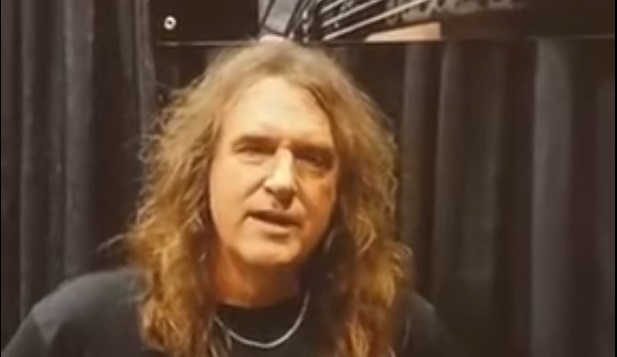 During a recent appearance on SiriusXM's "Trunk Nation With Eddie Trunk", David Ellefson opened up about his dismissal from MEGADETH five months ago.
As previously reported, Ellefson was fired from the group after sexually tinged messages and explicit video footage involving the 56-year-old musician leaked.
At the time, Ellefson released a statement on Instagram denying all social media chatter that he "groomed" an underage fan. He also filed a report with the police department in Scottsdale, Arizona alleging unlawful distribution of sexually explicit images of him by unknown offenders. In the report, Ellefson admitted that he had been exchanging sexual text messages with a Dutch teenager, who captured a video of several of their virtual "masturbating encounters" without his consent and shared them with friends. (According to Ellefson, the woman was 19 at the time of their first virtual sexual encounter.)
Ellefson said that he "didn't even know what" the word "grooming" was, adding that he "had no idea" about the meaning of the term experts use to refer to the actions that sexual abusers take to get close to and gain the trust of those they are interested in.
"And any allegations of anything being illegal [are false]," Ellefson said. "There was nothing. And that's why I immediately hired a criminal lawyer. I went right to the police department. And just for the record, the bad guy doesn't go to the police department. Okay? So, just to be clear. The guy who didn't do anything wrong, he goes to the police department. That's why I went to the police department and filed a police report and let them deal with it.
"I think there was a big fear of — there's always this talk of cancel culture and all this stuff. And I was, like, 'Listen, that was not me.' And I had every right to stand up against that and defend myself against it. And I just turned that over to the lawyers and police department and let them deal with it, and they did."
"Look, certainly time heals wounds in these things, which is good," he continued. "And that was the thing — I was, like, look, I didn't do anything wrong; there was nothing illegal here; and you let it go. And for me to just kind of take some time away and go dark. I got off all social media. I have one Facebook account that I don't even run, just for kind of professional purposes and everything, but I'm off of that. And I think that helps."
When Trunk brought up the point that the only apparent "illegality" in this case lies with the person who actually leaked the above-mentioned video, Ellefson added: "A hundred percent. That's why I didn't hire a civil lawyer to sue people for a million bucks. I hired a criminal lawyer, and what they do is prosecute to put people in jail. 'Cause those were the crimes. You can't just go do sh*t like that — put stuff out there, content — and not have a penalty.
"That is the crime. And I think people just think they can — and not everybody; I'm not saying all people — but there is a faction that they just think that that could be just done as a joke and for fun, and it can't. Of course, it's the Internet, so people live in foreign countries; there's all this stuff. That's why the best thing, I think, is to, first of all, just get away from those platforms because that is a breeding ground for that society to do that."