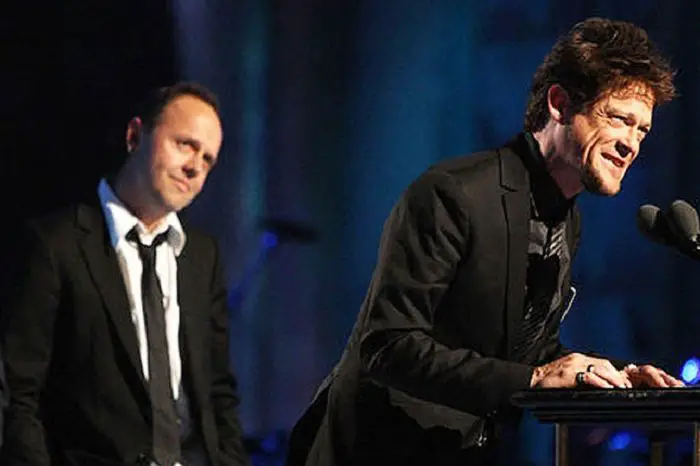 While being a guest on the most recent installment of the "Let There Be Talk" podcast, hosted by rock and roll comic Dean Delray, ex-METALLICA bassist Jason Newsted came to the defense of Lars Ulrich regarding the critiques of his drumming skills and his involvement in METALLICA's legal battle with Napster in 2000.
Discussing that Lars is frequently regarded as a mediocre drummer, overshadowed by numerous other less-famous artists, Jason commented: "Anybody that says that is a f**king idiot. They have no idea what they're talking about. The depth of this guy, his foresight, his comprehension of what the hell was going on when he was 21, 22, 23. Seriously?
"So if he can't play the same fill as Dave Lombardo or whoever the f**k you pick for today, so what? Look at the scoreboard, motherf**ker. Do not talk s**t about that guy. He's way ahead of you in most things, I promise you that — I promise you.
He continued: "If we wouldn't have had him and his ability to anticipate, to predict, to know geography, to understand what country and what city and what did what at what time and all this stuff, no way METALLICA would be what they were. No way! So you need to get ahold of yourselves because there's way more to it than just being able to hit a snare drum.
"The demand [on the musicians] back when Jimi Hendrix was playing and BLACK SABBATH started touring or whatever, the band came out, smoked some hash, played the songs, got paid a little bit, had some beers, chased a girl, went on their way. That filled their whole plate. There was a 'Paranoid' video that they agreed to do for one second; they put a bunch of oil behind them or whatever. That [would have taken no more than] a couple of hours in his day.
"Now, or even — s**t — 20-something years ago, or 30 perhaps, that much of the plate right there would be filled with the things we just spoke of: you learned your instrument, you played in tune, you tried to sing, you remember what's coming next and memorize your s**t. And then this chunk is the videos, and then this chunk is the interviews, and then that chunk is that thing, then that chunk is that thing, that chunk is meetings, that chunk is lawyers, that chunk is depositions. And then you've got that time for your wife. That's what's real.
"So if anybody wants to talk about, 'Oh, yeah, I got this. I could do that. Could you? Could you, really? I don't think so, man."
Jason Newsted left METALLICA in 2001. Initially, he stated that it was impossible for him to play a more creative role in the band, and METALLICA was spending too much time fighting Napster instead of focusing on new music. He later revealed that the main reason for his departure was his dedication to his side project, ECHOBRAIN, which was not supported by METALLICA frontman, James Hetfield. Newsted proposed a year-long hiatus to focus on ECHOBRAIN, but his proposal was rejected by the other members. Monotony and the inability to try new things also contributed to his decision to leave the band.