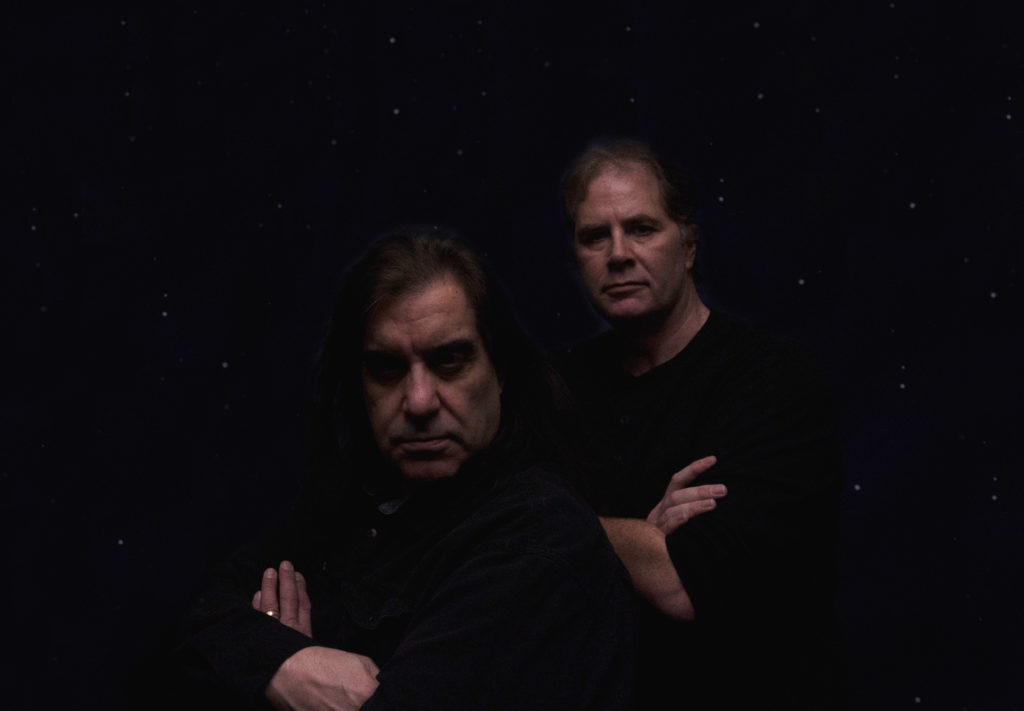 WALKER'S CAY is an original rock band based out of Toronto, Ontario, Canada.  Members include Gary LaBarr, (Vocalist/Rhythm Guitar/Keyboards) and Mike Swain, (Lead and Rhythm Guitars). Gary LaBarr has gold and platinum record status for his work in various original band projects, working as a musician, producer, and arranger. Mike Swain is considered to be the "technical wizard" for the band, due to his 30-plus years as a licensed control technician at a nuclear power plant. Mike is also a professional recording engineer, specializing in the Pro-Tools recording platform.  The duo took time out from their busy schedules to answer a few questions for us…
Hey Gary and Mike! How has Walker's Cay been doing during the quarantine?
Gary:  Well the short answer is that we, (and our families) are doing well…A bit bored though, (and out of our minds), but coping…
Mike:  We have been doing well. A bit isolated, but playing it safe.  I am doing quite a bit in my home studio right now…
How's the music scene in Toronto, ON?
Gary:  Believe it or not, it is in fact starting to come back a bit.  But still very slow, and understandably so…Hey that rhymes!
Tell us about the origins of Walker's Cay. How did you guys get going and what are your plans for the rest of 2020?
Gary:  The origins of Walker's Cay are quite simple.  The name came from an "out island" of The Bahamas…And I met Mike at a radio station that I own.  He was a guest on a radio show, and the rest is history!
Do you remember the first song you ever wrote? Tell us about it.
Mike:  I remember working on some session for a rapper.  I gave the song a heavy rock sound. They loved it.  It was pretty exciting to create your own music with them.
Gary:  Yes, I remember it very well.  It was in 1977, and it was a song called "Last Night."  In fact, we still perform it at our shows!
https://www.youtube.com/watch?v=eveQuj5JFmA
"Why Oh Why" has been a huge success for you. How did that song come about? Is it a surprise to you, how well it's been received?
Mike:  Gary and I worked very hard on that song. I think the lyrics have something to do with everybody, so they can relate to it.   Gary's vocals are amazing on that track. My lead is not flashy on it, but it is very melodic, and that is what the song called for.  Also, the song has some nice buildups and dynamics to it.
Gary:  That song came about due to all of the BS in the world.  And I am not specifically taking about politics.  One has to ask themselves, "Why Oh Why" is this all happening, and you can put two and two together.  It is awful…I think that the song has been very well received due to the fact that it is reality.  People can relate to it!
Best concert you've ever been to? Worst show you've seen?
Mike:  The best concert I've seen is Boston with Brad Delp on vocals. It was an amazing concert.  Brad will be missed by many fans around the world.  And Tom Schotz of Boston is a genius.
Gary:  I can agree with Mike.  I saw Boston live in Rochester, New York back in 1978.  An amazing show!  The worst show that I have ever seen?  Not due to the band, but it was The Cars also in Rochester, New York in 1979.  The power went out at the venue, and The Cars were on stage just dong nothing and standing around talking to each other.  It was (as I am sure), a very stressful event for the band, not to mention the 15,000 plus fans that were in attendance!
If there's one song you wish you'd written that you didn't, what is it?
Mike:  Any song from Def Leppard Pyromania album.  If I had to pick one song from that album it would be 'Photograph.'
Gary:  ANY song from Bryan Adams, Def Leppard, Styx, or April Wine.  Ha!  Such amazing songs!  I cannot decide!
Any plans to tour once 2020 is over and done with?
Gary:  Well, we WOULD love to tour!  It all depends upon of course what the world is like regarding Covid.  If it is totally under control, we hope to be out there, (and NOT with masks on trying to sing)!  🙂
Mike:  To record and play live shows once restrictions are lifted.
Give us your all-time supergroup lineup…who would you have in it?
Gary:  Tommy Shaw of Styx, Tom Scholtz of Boston, John Lennon of the Beatles, Phil Collen of Def Leppard, Jack Blades of Night Ranger, Todd Sucherman of Styx, and Dennis DeYoung of Styx.  Wow…Now that would be a super group!
Mike: Scott strap (Creed) or Steve Perry (Journey) on vocals, Andy Sneap and Richie Faulkner (Judas priest) on guitar, Tommy Aldridge on drums, Rudy Sarzo on bass, and some hot looking female backup singers!  Lol.
Thanks Mike and Gary!  We appreciate the time.  Here's looking forward to better days ahead!