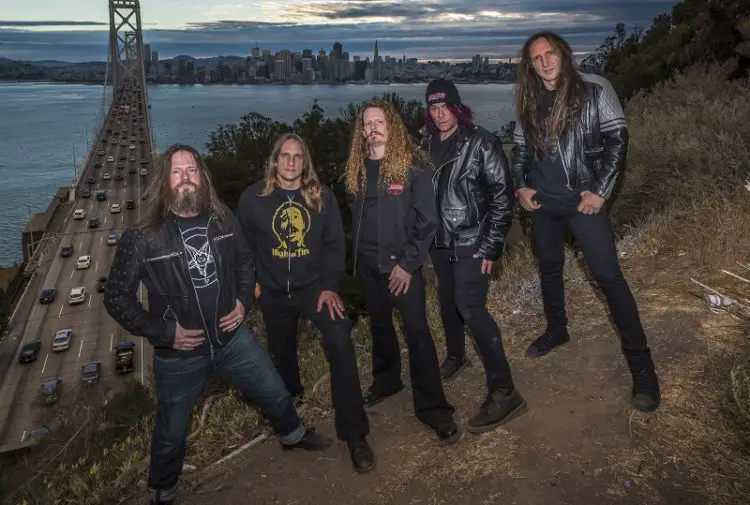 In a new interview with Australia's Heavy, EXODUS singer talked about band's upcoming album, Persona Non Grata, out November 19 via Nuclear Blast Records.
When asked about the description of the album's lyrical content in the official press release as touching on "themes of modern societal disgust and degradation," Zetro responded: "It wasn't done purposely like that. There just seemed to be so much fodder to pick from, and it seemed like everything that we wrote about on this record lyrically kind of hit a chord with a lot of people. It was written in the middle of everything last year, even though it seems like we're all still in the middle of it. It was written pretty much at the height of [the pandemic]. I think that the anger and the angst definitely comes from what we were seeing everywhere."
"I think it's always been about brutality and violence and social, political [and] religious issues. I think it's always been that way. We've always metaphorically went after everyone. Now we're really [doing it]. This album is just loaded with that. It's a very socially conscious record; it's a very what-is-going-on-now record. I tell everybody this is not a nice record. For a heavy metal fan, that's exactly what you wanna hear — that this is not a nice album. And it's not; it's very abrasive. The lyrical content, the approach, the attack — everything is in your face on this one."
You can pre-order Persona Non Grata via Amazon here.
Literally translating to an "unwelcome" or "unacceptable" person, Persona Non Grata touches on themes of modern societal disgust and degradation. The band gathered at Tom Hunting's house in the mountains where they produced and recorded Persona Non Grata from three home-built studios. Steve Lagudi was at the helm of engineering while the band enlisted Andy Sneap of Backstage Studios to mix the album. For the third time in the band's history, they returned to Swedish artist Par Olofsson to create the album artwork.