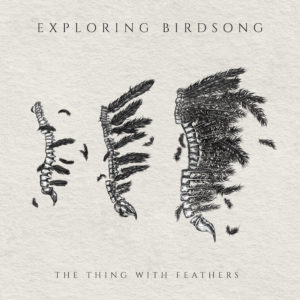 Sometimes all you need is a band with a female angelic voice, a piano and no guitars. Those times when there is such melancholy and sadness in your heart that you thing it is possible to make it burst. Times when the faith in humanity is so low that the only feeling one gets is to hide or run away. Yeah, life isn't easy to anyone in this sad and lonely and pathetic planet.
Exploring Birdsong know that perfectly and prepared "The Thing with Feathers" trying to heal all the pain and grief in everybody's hearts. No, "The Thing with Feathers" isn't those albums full of those crapy coaching sentences allegedly made to make you happy. Remember; all corpses in the Himalaia were somebody proactive taken from the comfort zone. It would be the easiest, and tackiest, step. No, not Exploring Birdsong which rock driven attitude chose to write seven tracks centred on the Seamus Heaney poem 'Bye Child' and the story of Kevin Halfpenny, one of the most bizarre cases of child cruelty ever recorded. Even sadder, isn't it? But we are metalheads and we take it for granted. We'll take it as men – no offense!
Lynsey Ward's voice is just beautiful. From where I'm standing a bit commonground, but there is no problem with that. The girl really knows how to. Another feature that sparks the attention to "The Thing with Feathers" is that it is a piano driven album. When I hear that what immediately comes to my mind is classical music and sonatas and things like that. But, again, not Exploring Birdsong which wrote a piece that flerts big with Art Rock in its wider sense. Tracks as "The Baptism" are the perfect match between Emerson, Lake and Palmer and Kansas having as a plus the gifted voice of Lynsey Ward giving a modern touch to it. However, pay attention to the classic piano sequence. By the way, there are no guitars in "The Thing with Feathers" as you may have noticed. Only pianos and keyboards which change place with guitars giving us first and second keyboards.
If you got dazzled by the title as I did "The Thing with Feathers" notice that it refers to Emily Dickinson's "'Hope' is the thing with feathers" poem. Gentle and sweet, isn't it?
Exploring Birdsong "The Thing with Feathers" was released on November 29th via Long Branch Records.
Track Listing:
Hope
The River
The Sinking Question
The Thing with Feathers
The Baptism
The Downpour
Deliverance
Watch "The Baptism" official music video here: