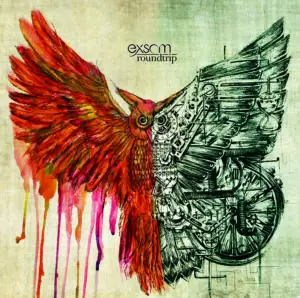 Are you in the mood for some exciting and strengthful classic Metal? In the mood for some competent modern Metal? Wanna see how a band can recreate the classical Metal into something modern but not the so called modern Metal? Wanna a band that can be lyrical without being cheesy? Do you believe that classical Metal can still evolve?
You do? So I present you Exsom with "Roundtrip"!
The only bad thing in "Roundtrip" is that it is an EP with only five songs. Exsom got it right it the bull's eyes. "Roundtrip" is an album that can fortunately be at the same time modern and mantain that charm of classical Metal. The twin guitars are pretty cohesive. Both can mantain the needed power and melodic lines that Metal is known for. Riffs are short, sharp, and caustic as they have to be. Vocals are exciting and full of heart. The bass lines aren't a mere acessory. They give the pulsation any Metal song need, and the drums destroy everything around. In a nutshell, Exsom with "Roundtrip" did the lesson majestically. Even more, they added to the charming sound of classical Metal, a dash of modernity that fit perfectly.
"Roundtrip" is an album that can please the most diverse public. I mean, it pleases fans of modern Metal and classical Metal. And let's agree that it's a task very, but very hard to accomplish. Songs like the "Window" are a perfect example of how Exsom do that. There are some effects, the riffs are deep tuned, and the drums are pounding large. But then comes the vocals that makes it go back to the tradition with the exact piece of emotion. And, of course, there are competent guitar solos and bridges. And a proheminent bass. If you wanted the lost link between the modern and the classic, Exsom have just provided you some.
It took me a while, though, to get the cover art. But now I get and it's pretty consistent with what I heard in the album: tradition and modernity.
I'm anxiously looking forward for some more.
Track Listing:
Roundtrip
The Window
It's Not The End
Myself And I
I Scream You Bleed
Watch "Roundtrip's" sneak peak here: