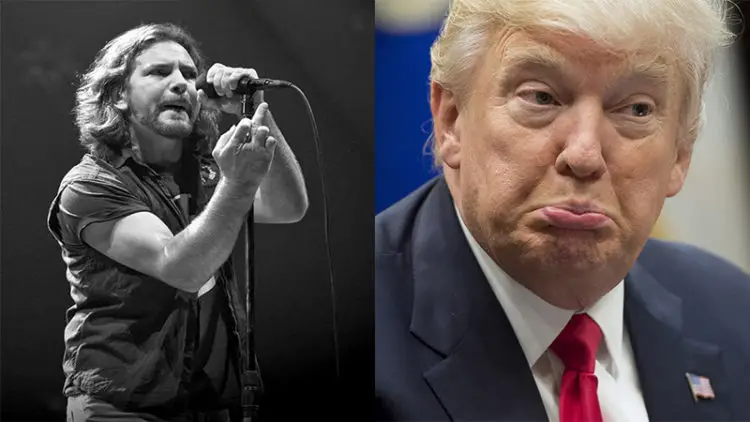 Alternative Nation reports that PEARL JAM is facing backlash for their recent concert poster which depicts a rotting corpse of U.S. President Donald Trump, with new rumors claiming that the band's SiriusXM radio station could be canceled.
The poster promoted PJ's August 13 Rock to Vote show in Missoula, MT, which was staged by the band to get fans to vote for Democratic Sen. Jon Tester on Monday.
The source also points out that some music fans have publicly demanded the cancellation, while others are defending the band.
As reported, the poster was created by bassist Jeff Ament and artist Bobby Draws Skullz. It depicts the White House on fire, skeletal remains of US President Donald Trump in front of it, as well as Montana congressional candidates Senator Jon Tester and his Republican opponent Matt Rosendale.
Rosendale himself wrote on Twitter:
"This poster from Pearl Jam is disgusting and reprehensible. It depicts a dead President Trump and a burning White House. It's time for Jon Tester to denounce this act of violence and blatant display of extremism!"
You can read some of the calls for and against the radio-station ban below.
https://twitter.com/dagsix06/status/1029704883648299009
https://twitter.com/dagsix06/status/1029699847920726016
https://twitter.com/mjschaaf/status/1029698591059664896
https://twitter.com/DewsSox79/status/1029615558910730240
https://twitter.com/JRWhitbey/status/1029549824503427072