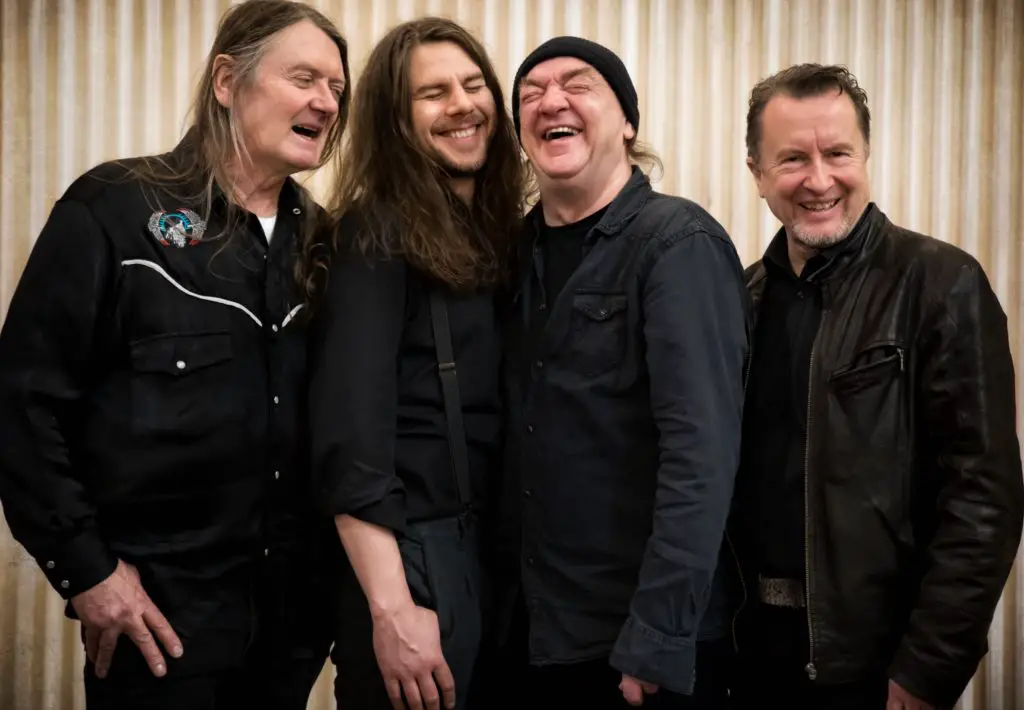 Things might have turned out differently. For example if Peter 'Fargo-Pedda' Knorn hadn't written a book about his life as a musician, band manager and label boss, bringing back  memories of his first band Fargo. The group, that's the conclusion following the publication of 'Bis hierhin und so weiter, 20 Jahre Rock'n'Roll – Ein- und Ansichten eines Bassisten', has remained unforgotten to this day among its fans. Triggered by the book's great success, the obvious question arose: How would Fargo sound today if the band was still around – or indeed returned? A consideration that the bassist from Hanover discussed with Fargo vocalist/guitarist Peter Ladwig and that both were only able to answer with a logical decision: Let's find out! Inspiring support for this heartfelt mission was provided by Arndt Schulz (Harlis, Jane) and Nikolas Fritz (Mob Rules) and what had started as a simulation game soon turned into reality. And so Knorn and Ladwig are proud to announce two things in spring 2018: Not only are Fargo back 36 years after their last release F (1982), they are also set to release a brand-new album. Their comeback is entitled "Constellation," was out on Steamhammer/SPV on 25th May 2018 and features many of the classic trademarks of its predecessors, sounding earthy, bluesy, honest and authentic.
The twelve classic rock songs and their contemporary, wonderfully laid-back sound (producer: Helge Engelke), Peter Ladwig's pleasantly relaxed voice, the accentuated guitar style of Arndt Schulz, whose DNA unmistakably features blues rock elements, and the dynamic drum style of Nikolas Fritz, who makes up the popular "wall" together with bassist Knorn – Fargo mark 2018 deliver their rock music as confidently as if there had never been that long break. You only have to listen to songs such as the casually grooving "Don't Talk," the West Coast atmosphere on "Cross To Bear" or "Loser's Blues," which brings to mind the best of ZZ Top, to immediately recognise that typical Fargo signature. In addition, there's an impressive video to support "Leave It" and a lyric on "Southern Breeze" which incorporates no less than twenty Elvis single hit titles. And as if all that didn't provide enough original Fargo atmosphere, Knorn and Ladwig have succeeded in convincing their former drummer Frank 'Franky' Tolle to pick up his drum sticks again on "Buzz Buzz" and "Don't Talk." Their fans will love it!
Just like they did in the early 1980s when Fargo counted among Germany's most important rock acts. Founded in 1973 by Knorn and Ladwig, the group soon earned itself a faithful fan base and went on to sign a recording contract only a few years later. For a while guitarist Matthias Jabs, who joined the Scorpions in 1978 and went on to make a global career, was also part of the Fargo fold. Fargo themselves developed into an internationally acclaimed act, too, released their debut album in 1979 and brought out three more superlative studio albums by 1982, all of them on EMI, the major label giant of that time. The band toured all over Europe, played with the greatest luminaries of the rock scene, performed outstandingly successful tours with AC/DC, Mothers Finest and The Small Faces, among others, and wowed TV audiences on a regular basis. Thanks to their sensational live shows (including Knorn's legendary nightly head-first somersault), Europe's biggest teen magazine BRAVO devoted two full pages to the Fargo bassist in January 1981. Following a time of upheaval, the hard rock act Victory emerged from Fargo in 1984 and continued the successful career of its predecessor seamlessly. Fargo may have been history, but the band was by no means forgotten.
That was the enjoyable experience that the four musicians made during their much acclaimed live comeback in summer 2016. And in view of the release of their latest album "Constellation," we're not likely to have to wait much longer for more live shows by Knorn & Co. Judging by the stellar constellation featured on the cover artwork, the project appears to be under an extremely lucky star.
LINE-UP:
Peter Knorn – bass
Peter Ladwig – guitar, vocals
Arndt Schulz – guitar
Nikolas Fritz – drums