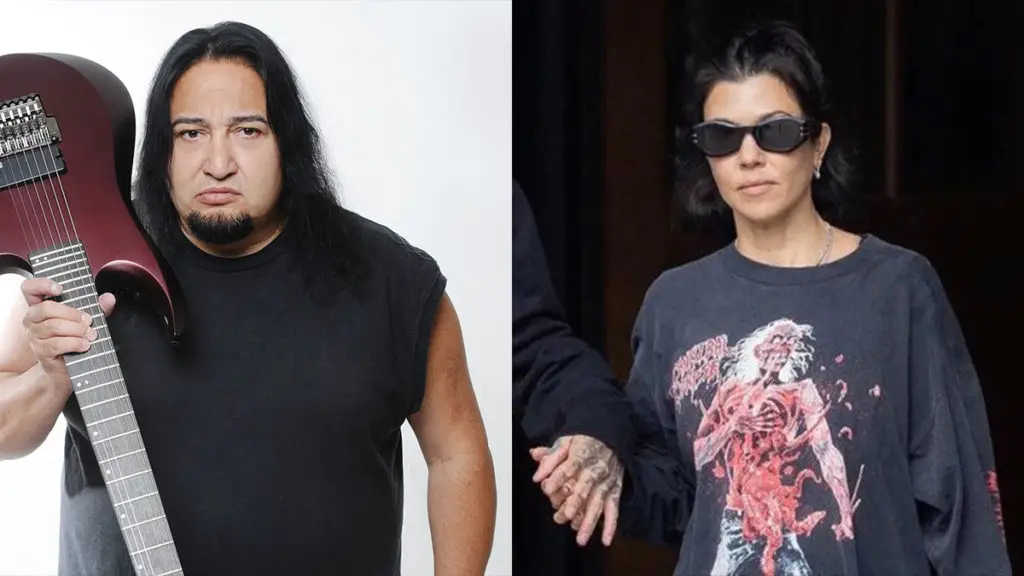 FEAR FACTORY guitarist Dino Cazares has commented on Kourtney Kardashian who was recently photographed wearing CANNIBAL CORPSE shirt.
In a photo posted by indie rock group BEST COAST, you can see Kourtney wearing a CANNIBAL CORPSE shirt with a print from their debut album, 1990's Eaten Back To Life.
After Metal Addicts shared original story on Twitter, Chris Barnes retweeted and slammed Kourtney as "poser."
Kardashian's stylist Dani Michelle confirmed to Vogue that the star borrowed the shirt from her boyfriend, BLINK-182 drummer Travis Barker, who has an extensive collection of rock and metal tees.
"Kourt has told me before that his closet is an archive itself," Michelle said. "She can pick any T-shirt to wear and it's the softest, coolest thing ever. Sometimes she just wants to raid it."
Now, Cazares tweeted out a link to an article about Barnes's reaction to Kourtney's t-shirt, and he wrote in an accompanying message: "He has it all wrong, why wouldn't u want exposure for your music even tho he's not in the band anymore. I wish she was wearing one of my bands tees, great exposure."