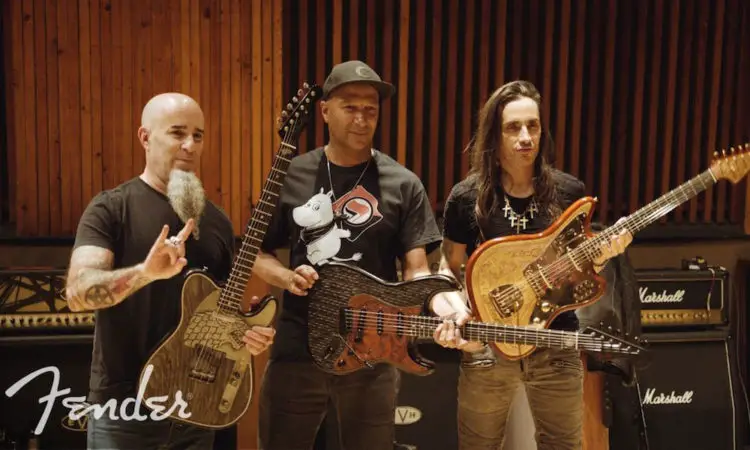 As reported by Ultimate Guitar.
Marking the new season of "Game of Thrones" Fender has unveiled a limited series of GoT-themed guitars called the Sigil Collection.
The run consists of three electric six-strings: the House Stark Telecaster, the House Lannister Jaguar, and the House Targaryen Stratocaster. All instruments are hand-crafted by Fender Custom Shop Principal Master Builder Ron Thorn and built to order.
Justin Norvell, EVP Fender Products, stated:
"This has been a two-year journey – much of it spent in the concept phase, nailing down a cool and authentic way to bring the two properties together.

"We worked directly and extensively with 'Game of Thrones' creator and avid guitar player DB Weiss to ensure that our vision, design, and materials reflected the identity of each house."
The guitars are priced between $25,000 and $35,000.
The House Stark Telecaster comes with a lightweight swamp ash body with inlaid sterling silver purfling, as well as an embossed Dire Wolf nickel silver pickguard. The Stark sigil was also inlaid in sterling silver at the first fret of the maple neck's ebony fretboard. Also included in the mix are engraved knobs, an etched neckplate, and custom "Raven Black" and "Gray Wolf" finishes.

The House Lannister Jaguar utilizes a 24k gold leaf heraldic design on the alder body and headstock. The first fret inlay is brass, with gold hardware and a gold-plated pickguard embossed with the lion sigil.
Finally, the House Targaryen Stratocaster is carved with dragon scales across the front and back. A hand-tooled and stained leather pickguard features the three-headed dragon sigil, which is also inlaid in sterling silver at the first fret.
Watch the presentation video: