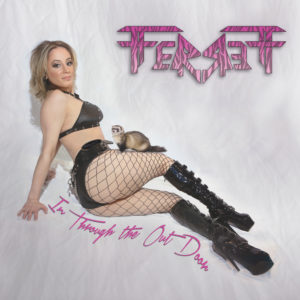 Sometimes we get stuck in a band. Sometimes it's really hard to find the right words to review an effort because it may not seem that important to most, but a bad, or inaproppriate, review can really make a difference to a band. So reviewers must be very careful. The reason I got stuck with FerreTT is not musical. It's the attitude. I simply coudn't get FerreTT's intent. I mean I don't really know if they how serious they are about what they're saying. Some songs seems to be pranks like "Boy's Night Out (On Gay Street)." The art cover and the name of the album are ambigous. Provocative. Not really political correct. But who the hell in the Metal world cares about political correctness?
But let's forget all that, shall we? Metal is much more a musical movement than anything else. Their music is amazing. Though the images I got shows a hard rock band image, I wouldn't rush to label them as hard rock, as it seems these days, but simply as heavy metal. Most Metal elements are in their songs, much more than hard rock. There are no bluesy passages, norock'n'roll elements as it should be in a hard rock effort. Of course one can perceive a very strong Guns N' Roses taste in FerreTT, I must warn that it's centered on the vocalist, not in the musical structures. "In Through The Out Door" is a very good Heavy Metal album, indeed. Songs were carefully written in order to stress all the musicians. Everybody shines in FerreTT, and that's the most amazing thing about "In Through The Out Door." Everybody gets their share. "In Through The Out Door" is very well produced, and we can noticed that.
On the songs I must say that the one that I liked most was the opening track, "Year Of The Ferret." Heavy, intense, and strong as a good cup of coffee. "Jason Lives" is maybe the song that aproaches more to hard rock, even so I won't change my mind. Bands like Saxon and Accept had their hard rock moments. And, indeed, there's a lot of Judas Priest in "Jobber" to make me retreat. Another provocative lyrics. That's what FerreTT are: provocative. The last but not least, the title track, "In Through The Out Door," is a piece of art. "In Through The Out Door" goes in a crescendo as most Metal balads, but stressing the vocalist with his strong and raspy voice. Instrumentals are whimsical. In more than eight minutes, "In Through The Out Door" features all the competence and resourcefulness of FerreTT's musicians.
FerreTT "In Through The Out Door" is a very good effort, indeed. Almost fun. The pleasure to listen to it was almost sexual. hahahahahahaha I guess I got FerreTT's intent.
Watch "Thirsty" official video here: