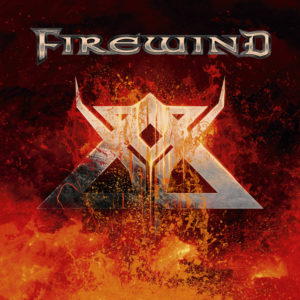 Three years ago we had the honor and pleasure to review latest Gus G's Firewind "Immortals" – read the review here. Here "Firewind" has a member change, Herbie Langhans lends his marvelously well-tuned and thick voice to the band. Most instrumentists will hate me and they never aggree with it, but this kind of change does change it all in a band. "Firewind" has a bigger and thicker grip than its predecessor. The songwriting changed a bit as well as it would be the natural course. Songs are someway faster and heavier. I've got to say that I like this one better the other. This is much heavier. A true Power Metal with lots of guitars, fast drumming, thunderous basses and few, very few keyboarding. A jawbreaking album that makes the fan drool.
Gus G is a guitarist that little by little conquered my respect. I saw him alive few years ago with Ozzy "The Madman" Osborne and I have to say that I didn't like his playing at all. I was flat wrong. This album has wiped away all the doubts I had about his capabilities and prowness. The fan will get it in the beginning with guitar solo-track "Welcome to the Empire" and its headbanging mood. By the way, "Firewind" makes the fan headbang all the time. The kind of one-two-three-four go album! Straight ahead as a Power Metal album can be. From where I'm sitting, I blame it all to the new vocalist and his singing style. As I said before, it changes a lot the music of a band. It's noticiable here while I'm listening to "Orbitual Sunrise" a more emotional and moody track which even so got so powerful. The drumming is fantastic filling all the gaps and blasting his anger all around. The devil is in the details. Listen to his cymbals conduction. The ballad "Longing to Know You" is a thumbs down, but nobody's perfect, isn't it? But following track "Perfect Strangers" put things on trails again. Let's call it a recovering track. The epic "Overdrive" drips blood in the floor. I just love the mood of tracks like it.
It is very satisfying to watch the sound of a band grow so much even though it's a hotshot and matured artist. It makes the reviewer doesn't regret the time spent to review the album. Well, as a matter of fact. if I don't like the album I don't review. No badmouthing needed – only for Metallica, if you ask me.
Firewind "Firewind" will be released on May 18th via AFM Records.
Track Listing:
Welcome to the Empire
Devour
Rising Fire
Break Away
Orbitual Sunrise
Longing to Know You
Perfect Stranger
Overdrive
All My Life
Space Cowboy
Kill the Pain
Watch "Rising Fire" official music video here:
886