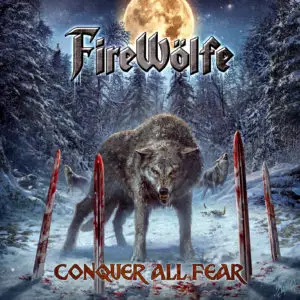 There was a time in Metal music that the way of a band to satnd out from the crowd was to have a vocalist with a very personal voice. By personal voice I mean that the voice could even be a little uncanny, a bit untuned or even almost ugly. That gave the band a cult aurea. There are lots of examples to address as Saxon's Biff Bifford, Cirith Ungol's Tim Baker or even the full of German accent of Scorpions' Klaus Meine and many others. A very personal voice gave those bands their unique signature. And maybe their success came because of them. Maybe. Firewölfe also have a vocalist with a very personal voice and that's the thing tha first called my attention to "Conquer All Fear" an album that revives this Metal aurea.
Come to think of it, it just ocurred to me that Firewölfe "Conquer All Fear" reminds me a lot the modern Saxon, from 2000 to now, that's the modern Saxon to me. It's not that it reminds a lot, but I sensed some resemblances. To tell you the truth, I really don't know exactly what in the album reminds me Saxon so much. I guess, and it's only a guess, is Freddy Krumins' voice that sound a little as Biif's and is so personal as his. The feeling gets strong in tracks as "Candle in the Dark" whose slow cadence and mood are killers and vocals reminded me a lot Biff's. Album opener "Vicious As the Viper" is a great invitation card to the album. Freddy Krumins delivers his very personal voice full of emotion that goes higher in the chorus. By the way, what a nice chorus. The kind that the fan sing along and sticks to the mind easily. The rhythm breaker in the middle of the song is also very well planned and works just fine. The frentic rhythm of following track "Pedal to Metal" is just intoxicating and inebriating. It's the song to headbang at large.
The Metal music the fan will find here in the album is hard as iron and consistent as hell. It's the Tradicional Heavy Metal with some modern sonancy. I'll elaborate, the drums hit harder and tighter, guitar riffs are shorter and sharper and there are more guitar phrases using higher tones. Maybe this is it. Maybe.
Firewölfe "Conquer All Fear" will be released on November 19th via Limb Music.
Track Listing:
Vicious As the Viper
Pedal to Metal
Conquer All Fear
Swallow My Pride
Candle in the Dark
Wages of Sin (The Evil Eye Trilogy Pt. 1)
Black and Gold (The Evil Eye Trilogy Pt. 2)
Keep the Hounds at Bay (The Evil Eye Trilogy Pt. 3)
Magic (In Your Mind)
Method to the Madness
Watch "Vicious As the Viper" official lyric video here: