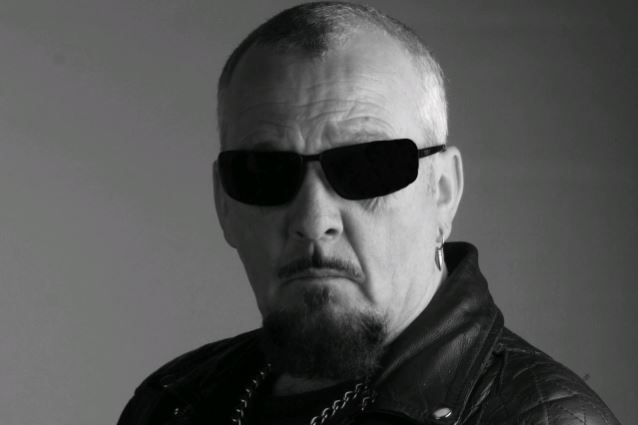 It's not every die-hard Judas Priest fan that know that Rob Halford wasn't the band's first singer. Even worst, who ever knew there is no original member of the band in the classic line-up? Beats me. Now we have original vocalist Al Atkins explaining the band's priors to Music Realms. Read some excerpts of the interview here.
"The first lineup of the group [then called The Jug Blues Band] was formed in 1969 with 18-year-old John Perry on guitar, but after a few months of rehearsing, tragedy struck when he committed suicide.

"Drummer John Partridge, bassist Bruno Stapenhill and myself decided to carry on and dedicate the band [Judas Priest] to him.

"A few weeks after his funeral, we started auditioning guitarists to take his place and one young lad who came was Kenny 'K.K.' Downing, but we felt he wasn't experienced enough and the job went to Ernie Chataway from Birmingham.

"He was a great-looking kid and a mean guitar player who mentioned a band he once jammed with of the name Earth and they had now changed their name to Black Sabbath and we thought that was a great name and we should look for something similar.

"And Bruno suggested Judas Priest, which we all thought was good and people would remember it."
Asked on what it was like getting the band off the ground, Al replied:
"They were pretty hard times. You could always get the odd pub gig, but we always tried for bigger and better things.

"Alan Eade from Ace Management saw we had potential and put us on his books and took us into the studio and asked me to write two commercial songs, which I did, called 'We'll Stay Together' and 'Good Time Woman.' It got interest from a couple of record companies.

"We did a live audition next, and one of the companies, Immediate Records from London, signed us up and we threw a champagne party at Alan's house. Next for us was a tour of Scotland, but our drummer pulled out, so I ended up playing drums and singing too – and we fired the drummer on returning home.

"Then we found out the record company went bust and Bruno had an offer from another band to tour Denmark and took it, so that was the end of Judas Priest Mark One. Short and sweet.

"I decided to carry on regardless and look for another lineup and discovered a young band called Freight rehearsing at a local church school run by a fat Vicar named Father Husband or the nickname 'Holy Joe.'

"One of the lads was Kenny 'K.K.' Downing on guitar, who I had met before. The other two were John Ellis, drums, and Ian 'Skull' Hill on bass. I asked if they needed a singer, and they all said yes, and I suggested that they use my old band's name, Judas Priest, and they all agreed that it was a better name, so Judas Priest Mark Two was born.

"It was now towards the end of 1970 and we went back into the studio to record another two of my songs, 'Mind Conception' and 'Holy Is the Man,' and hit the road again.

"We climbed the ladder of success fairly quickly over the coming years, opening up for loads of bands like Status Quo, Slade, Budgie and Thin Lizzy, to name a few, and playing over 150 gigs in 1972, but that elusive record deal never came our way.

"I was now the only one married with a small daughter, and money was always tight, and the more we earned, the more overheads we got, so without that record deal or financial backing, I decided to leave in May 1973. One of my last gigs was opening for Budgie at Liverpool's St. Georges Town Hall."
The seminal song 'Victim of Changes' [released on 1976's 'Sad Wings of Destiny'], which you co-wrote, remains a classic and is still in the repertoire of Judas Priest. What was going on with you at that time, to come up with that theatrical direction the song took, and the powerful lyrics?
"I had the idea for writing 'Victim of Changes' while listening to Led Zep's 'Black Dog' with the vocals on their own in between a heavy riff, and it was originally called 'Whiskey Woman' about an alcoholic woman.

"When Rob Halford joined, he brought some of his lyrics and songs with him and one was a slow song also about a woman of the night and a fallen lady called 'Red Light Lady' which he added to the end of mine…

"In came Glenn Tipton on guitar and beefed it up a bit and added the intro and they re-titled it to 'Victim of Changes'… classic!"
Some of your other songwriting appears on their first and second albums, [1974's] 'Rocka Rolla,' and 'Sad Wings of Destiny.' Can you tell our readers what songs these are and if they are significantly different from when you first wrote and performed them?
"Yes, 'Rocka Rolla' featured [instrumental track] 'Caviar and Meths,' 'Winter,' and 'Never Satisfied'… 'Caviar and Meths' got cut down to fit on the album… This was our big, long, live finale song when I sang for them. I have recorded the full version myself now but made I made it more, heavier and modern sounding than the original.

"'Winter' was recorded a lot slower than the original but 'Never Satisfied' was more or less the same. 'Sad Wings of Destiny' is one of my favorite albums by the band and two of my co-written songs were 'Dreamer Deceiver' and 'Victim of Changes,' which are featured."