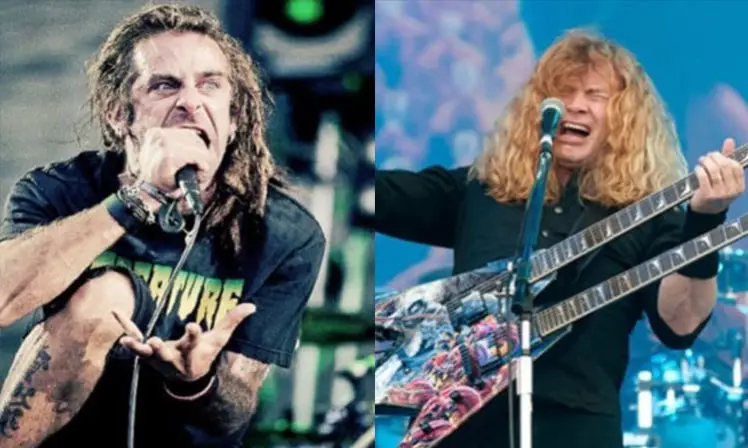 The first date for this year's Mayhem Festival — which is rumored to be headlined by MEGADETH and LAMB OF GOD — has been leaked: July 10 in Tinley Park, Illinois. The information was revealed by Chicago metal DJ/promoter Nick Fury in a social media post yesterday, and also said that full tour announcement is expected next week.
LAMB OF GOD previously took part in the 2010 edition of Mayhem, while MEGADETH performed in 2011 edition of the festival.
So far, there has been no official confirmation about any of the acts that will take part in the 2020 edition of Mayhem, which recently announced its return following a five-year absence.
Following the SLAYER-headlined 2015 edition of Mayhem, Reese declared that the festival was coming to a close, in light of poor attendance and less-than-kind words from SLAYER guitarist Kerry King.
Both MEGADETH and LAMB OF GOD are expected to release new albums this year, with LAMB OF GOD recently sharing new song and announcing new self-titled album on May 8.
Last year, Mustaine talked about the new MEGADETH album with Kerrang.
"We're trying to keep with that real heavy thing." Dave said. Dystopia was more of us doing what makes us feel good; there's a lot of super-heavy, fast drumming at the end of some songs.
"My son was in here two days ago, and when we were doing Dystopia, he was listening to the songs and making comments, and the ones he commented on were the ones that got the best response.
"When he came over this time, we were working on a song that has the tentative title 'The Dogs Of Chernobyl', and the intro riff has kind of a Hungarian guitar part, kind of like something MERCYFUL FATE did on 'Into The Coven'. The song comes in super powerful and strong, and my son goes, 'Oh god, that's heavy as hell!' and I just started laughing."