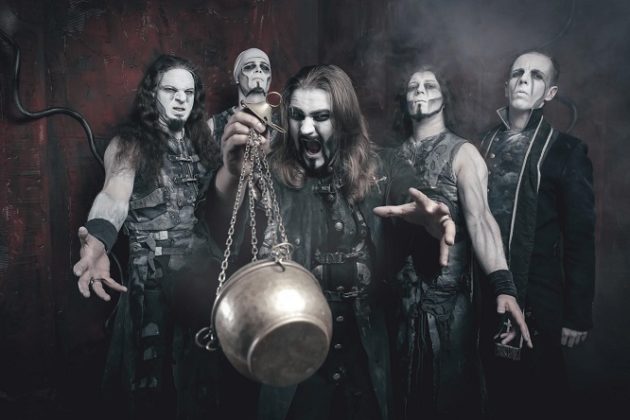 POWERWOLF has risen over the years to one of the biggest flagships in the Heavy Metal scene of today! The band has a deep bond with Metal Blade Records who helped them over the period of four albums to become the dominating force they are today.
Metal Blade will now re-issue the first three longplayers in the history of POWERWOLF – "Return In Bloodred", "Lupus Dei" and "Bible Of The Beast" – on August 11th on vinyl. This is the first time these albums will be available on vinyl as stand-alone releases!
All three albums will get the MB Originals treatment which means 400g heavy cardboard spine sleeves (inside out print), big posters and 250g inserts. All three albums got a special vinyl remastering from Patrick W. Engel.
The vinyls are part of the Metal Blade Originals series that started last year with the re-issues of the SLAYER titles "Show No Mercy", "Hell Awaits", "Haunting The Chapel" and "Live Undead"!
Pre-order your copies now at EMP or at Metal Blade eBay store!
"Return In Bloodred" Originals-Series" LP re-issue
— 180g Black Vinyl
— Orange Transparent Vinyl (ltd. to 300 – EU exclusive)
— Golden Vinyl (ltd. to 200 – Napalm exclusive)
— Red/Black Splatter Vinyl (ltd. to 100 – eBay exclusive)
"Lupus Dei" Originals-Series" LP re-issue
— 180g Black Vinyl
— Opaque Red Vinyl (ltd. to 300 – EU exclusive)
— Golden Vinyl (ltd. to 200 – Napalm exclusive)
— Red/Black Splatter Vinyl (ltd. to 100 – eBay exclusive)
"Bible Of The Beast" Originals-Series" LP re-issue
— 180g Black Vinyl
— Red Transparent (ltd. to 300 – EU exclusive)
— Golden Vinyl (ltd. to 200 – Napalm exclusive)
— Red/Black Splatter Vinyl (ltd. to 100 – eBay exclusive)