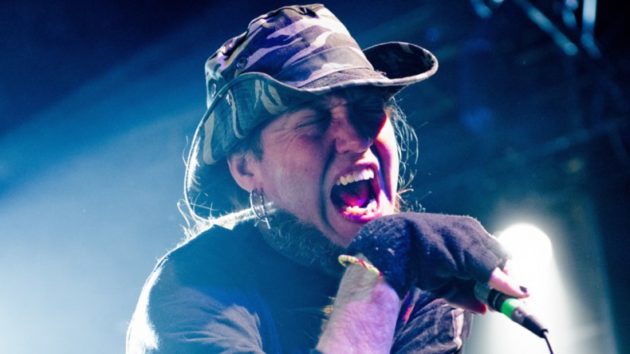 On December 13th, 2017, the worldwide metal community mourned the passing of a truly unique voice, an extremely gifted songwriter, and above all a wonderful human being, that will be dearly missed: WARREL DANE, who died of a heart attack during the recordings of his second solo album in São Paulo, Brazil.
Renowned for his work in SANCTUARY and NEVERMORE as well as a solo artist, in 2014 Warrel had teamed up with Brazilian musicians Johnny Moraes (guitar), Thiago Oliveira (guitar), Fabio Carito (bass) and Marcus Dotta (drums) as his touring band and ultimately this successful collaboration led to plans for a new studio album. Recordings for "Shadow Work", the follow-up to 2008's "Praises to the War Machine", started in fall 2017 and Travis Smith commenced to create the artwork following a concept and ideas previously discussed with Warrel.
After reviewing the material that could actually be completed using vocals from various studio and pre-production sessions with Warrel, the decision was made to release these recordings as "Shadow Work" on October 26th, 2018.
Recorded by Wagner Meirinho at Orra Meu and Loud Factory Studios, "Shadow Work" was mixed and mastered by Lasse Lammert at LSD Studio and a first song from the release – "Disconnection System" – can be heard below.
"Shadow Work" will be released as Special Edition CD Mediabook offering a 44-page booklet, as Gatefold LP plus CD and 12-page LP booklet and on all digital platforms. Each song is illustrated by Travis Smith's art, created as his personal tribute to Warrel and further explained in his personal liner notes. Furthermore, photos, lyrics and moving statements from the musicians are included as well.
Shadow Work track listing:
1. Ethereal Blessing
2. Madame Satan
3. Disconnection System
4. As Fast as the Others
5. Shadow Work
6. The Hanging Garden (The Cure cover)
7. Rain
8. Mother is the Word for God